A perfect balance between elegant austerity and a swiftly-rendered, passionate tale of hearts, pure and not so pure, the Washington National Opera's Tosca is everything a traditional production should be. In fact, it's everything any thoughtfully directed and produced opera should be: a fully imagined world in which we are free to relish the music of the human heart. Like a classical painting viewed in the recesses of an old museum, this is a production that transports. Thanks to director David Kneuss, we have Puccini's antique dream, as dark as it is beautiful.
Bringing us the songs of the soul is a seriously effervescent Patricia Racette in the title role. Capturing Tosca's feisty nature and the honest heart beneath without the slightest hint of affectation, Racette gives us a living, breathing woman of substance. Racette is eminently fresh and convincing, and when she sings, she captures Puccini's idylls of love and loss with heartbreaking power in a voice that is as beautifully fluid as it is golden. To hear Racette is to savor an astonishing mix of passion and skill. And to see her throw herself from the battlements like some fantastic diver in search of oblivion is to see a consummate artist.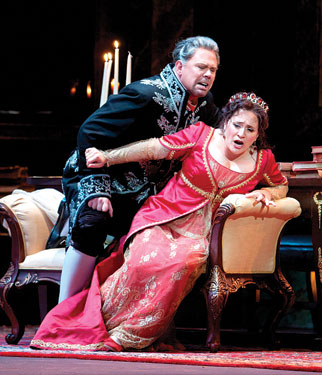 Tosca: Held and Racette
(Photo by Scott Suchman)
Instantly enamored of this fascinating Tosca is the poison-hearted Baron Scarpia, who discovers her while searching for an escaped political prisoner. Determined to have her (at least for a night), he begins a campaign to separate her from her lover, the painter Cavaradossi. Quickly detaining him for aiding the fugitive, Scarpia traps Tosca in his chambers while he tortures Cavaradossi within earshot. In agony, Tosca only briefly accedes to Scarpia's wishes before turning to violence. Yet even as she engineers safe carriage for herself and Cavaradossi, the Baron's influence survives just long enough to part the lovers forever.
A phenomenal actor, bass-baritone Alan Held delivers a spectacularly nuanced and credible Scarpia. Despite Racette's wattage, it is hard to drag one's eyes from Held, even as he waits in repose. A voice of molten rock, Held gives his Scarpia a vocal relentlessness that echoes his insatiable drive for power. At the end of Act One, he captures brilliantly Scarpia's internal dialogue as it moves with and against the magnificent swells of Puccini's evocation of the church assembling for the Te Deum.
This scene itself is emblematic of the elegant restraint of the production. Building visually what Puccini builds musically, the subtlety of image and timing is such that, when the composition is finally complete, the emotional and musical climax is enough to make a bishop's teeth rattle.
With their great chemistry and fine craft, Racette and Held carry the show. More of a conundrum is tenor Frank Porretta as the sincere, beleaguered Cavaradossi. Presenting rather like a stalwart of the NYPD, Porretta gives his painter an appealing gruffness. Although he looks genuinely taken with Tosca, there is not quite enough of the noble vulnerability necessary for the eventual pathos of the unfolding tragedy of their love.
TOSCA





9/16, 9/18,
9/20, 9/23,
9/24
Kennedy Center
Opera House
$25-$300
202-467-4600
kennedy-center.org/wno
With a pleasing top register, Porretta sings with expressive power to start but things take a turn for the worse after a particularly realistic off-stage scream during the torture scene. As the blood-curdling howl emanates from the wings, one has to wonder if it hurts (the scream, that is, not the torture). Thus, it isn't surprising when Porretta subsequently, briefly, goes hoarse during E lucevan le stelle, the deeply beautiful, cantorally mournful aria in which Cavaradossi longs for Tosca as he awaits execution. Pacing himself thereafter, Porretta does recover.
Conducting, Placido Domingo draws much passion from the WNO orchestra, even if there are occasional moments of less than crystalline focus. Of course, the staging of this particular production with these particular stars was set by Domingo himself (as Artistic and General Director) some time ago. Yet even as this remains more legacy than promise, it has set the bar delightfully high for the new management.
Editor's Note: The Washington National Opera presents Opera in the Outfield, a free live opera broadcast of Puccini's Tosca at Nationals Park. Open to the public. Reservations are encouraged but not required. Seating in the stands and on the outfield grass will be available for walk-ins at the event. Registration for reserved seating closes on Monday, Sept. 19 at 11:59 p.m. Visit http://www.kennedy-center.org/wno/outreach/simulcast/index.cfm