Nothing reads better than Shakespeare by candlelight. At least, Gaurav Gopalan might have thought so.
More than a hundred friends, co-workers and members of the LGBT community and allies flocked to the Dupont Circle fountain Sunday evening, Sept. 25, to light candles in remembrance of local theater enthusiast Gaurav Gopalan, who was found dead in the 2600 block of 11th Street NW in Columbia Heights Sept. 10, amid a rash of violent crimes targeting members of the LGBT community.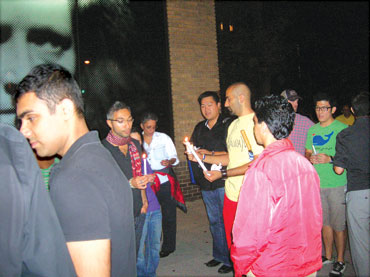 Vigil for Gaurav Gopalan
The D.C. medical examiner's office later confirmed Gopalan died of subarachnoid hemorrhage – bleeding in between the brain and the tissues that surround it – due to blunt-impact trauma to the head, ruling the death a homicide. Speakers at the vigil referenced Gaurav's death and the circumstances surrounding it, often calling for the Metropolitan Police Department to take whatever actions needed to solve the case, which is under investigation, and stop similar attacks against members of the LGBT community.
Gopalan, a local aerospace engineer who recently started his own consulting firm, was active in the Washington theater community, where he served as co-director, technical advisor and dramaturge for a number of plays by local groups such as the Constellation Theatre Company, WSC Avant Bard, formerly the Washington Shakespeare Company, The Zenith Theatre and The Studio Theatre.
Some at the vigil read passages from Shakespeare and Chekhov, Gopalan's two favorite playwrights.
After the tributes, and statements by Councilmember Jim Graham (D-Ward 1) and Gopalan's partner, Bob Schaeffer, vigil organizer Jason McCool led most of the crowd on a march from Dupont Circle to the crime scene, about a mile and a half away. The participants walked down P Street NW, past Studio Theatre, up 14th Street NW and on to 11th Street NW, where a memorial to Gopalan with pictures and wreaths was waiting.
At the crime scene, about 50 remaining mourners continued their tributes to Gopalan, singing, praying, reading sonnets and giving speeches about Gopalan and the need for the LGBT and Washington theater communities to support each other. They also talked of the need to apply pressure to the police to improve their handling of cases involving the LGBT community and prevent further tragedies.