Shaw resident William Waybourn lives on 8th Street NW. He also owns Long View Gallery, about three blocks away on 9th Street NW. But under a redistricting plan passed by the City Council in June and signed into law by Mayor Vincent Gray (D) in July, Waybourn's business will remain in Ward 2, while the gay resident's house will now be in Ward 6 – along with neighborhoods up to more than three miles away, including Capitol Hill, the Navy Yard and the Southwest Waterfront.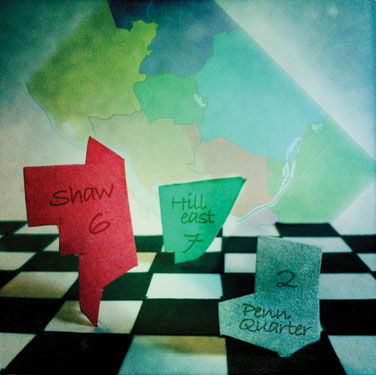 With his gallery remaining in Ward 2, parking becomes an obvious concern. Waybourn's new Ward 6 parking permit will no longer allow him to ignore the parking restrictions on residents from outside Ward 2. Because he's in a different ward, it means he can no longer use his city-issued permit to park in areas of Ward 2, where he previously could have parked with residential privilege, such as Dupont Circle, Georgetown, downtown D.C., at the Verizon Center or even at the Walter E. Washington Convention Center two blocks from his house.
The change of ward can also have implications for Waybourn or any other small-business owners who wish to start a new business or expand their current enterprises, in that it can affect the make-up of Advisory Neighborhood Commissions (ANC).
In order to make any logistical changes that will impact a neighborhood – such as construction, renovation or parking – a business usually seeks approval from its local ANC, an elected board of citizen legislators who can influence everything from trash collection to the granting of a liquor license. When ward lines are finalized and take effect in 2012, Waybourn's current ANC 2C will likely be brought into a larger Ward 6 ANC.
Political changes such as the redrawing of ward lines are not an uncommon occurrence. Every 10 years, after population counts from the U.S. Census are released, the District reorganizes its wards to adjust to shifting populations with the aim of ensuring equal numbers of residents are given equal representation on the City Council.
D.C. law requires that each ward's population be within a 5 percent deviation of the average population. According to the U.S. Census, as of 2010 the District had 601,723 residents, meaning each of the eight single-member wards should have, on average, 75,215 people. Under the 5 percent rule, no ward can have more than 78,975 residents, or fewer than 71,455 residents.
According to 2010 Census counts, Wards 7 and 8 need to gain population to meet the minimum threshold and Ward 2 needs to lose population. The council's map could have moved Ward 8, represented by Councilmember Marion Barry (D), across the Anacostia River and the National Mall to take in the Southwest Waterfront and Foggy Bottom, or could have moved the ward east to absorb parts of Ward 7.
After the council's redistricting committee opted for the latter, the resulting "domino effect" meant that Ward 7 had to take on territory previously belonging to Ward 6, which then had to take on territory belonging to an adjoining ward – either Ward 2 or Ward 5.
As a result of the changes, Shaw was added to Ward 6 and Penn Quarter was moved to Ward 2. The waterfront area containing RFK Stadium; the old site of D.C. General Hospital, known as Reservation 13; and the D.C. jail was moved to Ward 7.
Initial plans had included adding parts of Capitol Hill's "Hill East" neighborhood to Ward 7, but strong opposition and protests by residents of Hill East led the redistricting committee – made up of Ward 2 Councilmember Jack Evans (D), At-large Councilmember Michael A. Brown (I) and At-large Councilmember Phil Mendelson (D) – to scrap that plan.
Data from the U.S. Census Bureau compiled by the Williams Institute, a think tank focusing on sexual orientation law and public policy at the UCLA School of Law, shows that some of the census tracts with the highest numbers of same-sex couples per 1,000 households are the ones being moved between wards.
The U.S. Census Bureau divides the District into 188 census tracts. The Williams Institute analyzed census data for all 188, ranking them in terms of highest density of same-sex households. Notably, three of the very "gayest" tracts are being moved from Ward 2 to Ward 6.
Meanwhile, the retention of the "Hill East" area, including the Rosedale and Barney Circle neighborhoods, keeps predominantly gay tracts within Ward 6 intact.
On Sept. 27, the U.S. Census Bureau released new statistics revising the number of same-sex married couple and unmarried same-sex partner households. The new figures revise earlier estimates that, due to inconsistencies in responses on the census and the ACS Community Survey, inflated the number of same-sex couples.
However, Dr. Gary Gates of the Williams Institute told Metro Weekly in an e-mail that the revised estimates, in general, don't have a significant effect on density. The earlier estimates had ranked the three tracts being moved to Ward 6 as having the fourth-, fifth-, and ninth-largest densities of same-sex couples.
For his part, Waybourn is ecstatic about where he'll end up under the new redistricting plan, because he feels the economic and safety concerns of Shaw residents will be better addressed.
"Shaw's really the last frontier in the District, because it's been underdeveloped, under-served and ignored," Waybourn says. "I think it's good for us to be in Ward 6 because the councilmember in Ward 6 has been fairly responsive to the residents, whereas the councilmember from Ward 2 has been more responsive to business interests."
Waybourn says the gerrymandered nature of the new ward lines and the inclusion of fast-growing areas of the city into Ward 2 are an illustration of Evans's priorities.
"That just speaks to Evans's comfort level," says Waybourn. "He'd rather deal with corporations than individual homeowners or small businesses. If you hooked him up to a lie detector, he'd probably say he's thrilled to death to be rid of Shaw."
Evans says he was on the City Council during the last two redistricting sessions, in 1990 and 2000, and, because of his experience, he agreed to be part of the redistricting committee again.
"Nobody else really wanted to do it," he says.
People always get upset when ward boundaries move, says Evans, explaining that the criticism is not surprising. He maintains, however, that the redistricting committee made the "best decisions" based on logic and that resulted in the fewest possible changes. For example, the committee decided to keep as many neighborhoods intact as possible, which is why Shaw moved to Ward 6 and parts of Chinatown and Penn Quarter that straddled two different wards were reunited and moved into Ward 2.
"It's easy to throw stones and criticize, but when it comes down to making hard decisions, that's what separates leadership from the people in the peanut gallery," says Evans, adding that he hasn't fielded many complaints from constituents.
As for his attitude towards the territory he is losing, Evans says Shaw is "dramatically different" from the way it was 20 years ago, due in part to projects he pushed to help foster economic development.
Alexander Padro, a gay Advisory Neighborhood Commissioner representing Shaw, says he wasn't "terribly concerned" about the approved redistricting plan. Moving from Evans's Ward 2 to Councilman Tommy Wells's (D) Ward 6 will not make much difference, he says, in that both have been very supportive of the LGBT community.
"There's limited benefit to using a crystal ball to predict what will happen," Padro says of the ward switch.
Still, there are some in the LGBT community who feel the latest redistricting is flawed.
Neil Glick, the gay ANC 6B commissioner who represents Capitol Hill, calls it a "hatchet job."
Glick says the presence of Evans on the committee drawing the lines could be viewed as a conflict of interest, since his ward was among those most affected.
"[Evans] could really go in and carve out whatever base of support he wants," says Glick.
While many of his neighbors are happy that redistricting did not split their neighborhood after they protested the original plan, Glick continues, some are concerned about the placement of the Hill East waterfront in Ward 7, represented by Councilmember Yvette Alexander (D). Glick says many Ward 6 residents had hoped that the area, which contains a large parcel of underdeveloped prime real estate on the Anacostia River, could be rehabilitated and eventually developed into a "hot spot" like the U Street corridor in Northwest or the H Street corridor in Northeast.
Glick also says some Ward 6 residents are concerned about economic or zoning decisions that will be made by the ANC commissioners from Ward 7. The rationale, he explains, is that most of Ward 7 is south of the Anacostia, so that those making such decisions about his side of the river will not be impacted by the consequences; whereas Ward 6 residents in the neighborhoods abutting RFK, the waterfront and Reservation 13, will. Had the area remained in Ward 6, it would have been easier for Hill East residents to hold the ANC commissioners and their councilmember accountable by threatening to withhold electoral support, Glick argues.
"Almost no one in Ward 7 is affected by anything that happens [in the former Ward 6 area], so they don't have to give it much thought," says Glick. "It is 100 percent ironic and hypocritical to complain about congressional control over D.C.'s affairs, only to have the D.C. Council draw lines that give neighbors in Capitol Hill no voice in matters that will directly impact their immediate neighborhood."
Inquiries to Alexander's office about redistricting and issues Glick raises were not answered.
"We're not going to comment on that," Alexander spokeswoman Tiffany Brown responded. "We view that as more of a Ward 6 issue."
But even Glick says that outside of his neighborhood, most District residents don't have strong feelings about the redistricting process.
Mike Connell, who lives with his partner in the fast-growing Penn Quarter neighborhood, says he has been paying attention to the redistricting process, but doesn't feel that moving from Ward 6 to Ward 2 will have a negative impact on him.
"I've heard good things about Tommy Wells, but I've also heard good things about Jack Evans," he says. "I don't think we're going to lose anything in redistricting. On the bright side, it will be nice to be able to park downtown."