Adam Gwon got the idea for his new musical The Boy Detective Fails from the most mysterious of places: Amazon.com.
The online superstore's complicated algorithms recommended an older book by author Joe Meno that Gwon ended up liking so much, he sought out Meno's most recent work, about a former child detective struggling with adulthood. He liked that even more.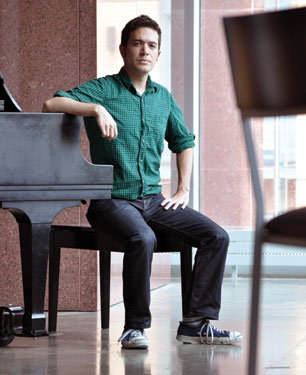 Adam Gwon at Signature Theatre
(Photo by Todd Franson)
So when Signature Theatre approached Gwon with a commission to write a new musical, Gwon decided to go with The Boy Detective Fails.
The book, as Gwon explains it, focuses on "Billy Argo, a 30-year-old former super-sleuth. When he was a kid he was sort of this rock star boy detective, like Encyclopedia Brown solving all these mysteries in his hometown. [But] he grows up and realizes that … nobody's perfect, and we don't have the answers to everything."
If it sounds "off the beaten path" for a musical, well, it is. "There wasn't really a model for me in terms of writing this show," says Gwon, "because I think it does feel so unique, this story and the world that Joe created."
Ultimately, Gwon solved the mystery of how to make it work onstage by enlisting Meno to adapt his novel for the musical's book. In turn, Gwon tried to create lyrics and music that capture the book's "slightly magical" sensibility, with quirky characters dealing with very human struggles but with a "sense of childlike wonder." Though it features some dark, complicated song structures, the music of The Boy Detective Fails, now in its world premiere at Signature, definitely pays homage to sunny, cartoon-ish musicals of yore, like You're A Good Man, Charlie Brown.
"I think in life I'm a perky, optimistic person myself," says Gwon, "so perhaps that's why I was drawn to this world." Gwon can also relate to Billy Argo's childhood.
"I had this amazing, awesome, wonderful childhood in Baltimore," says the 31-year-old, who like Argo has a younger sister. "I definitely had a little bit of Billy Argo-itis. I was a very good student, a very well-behaved child … always sort of on a path to do good things, I guess."
Gwon stumbled into the world of theater in middle school. "All my friends were doing it," he says. But then "he got bitten by the bug" and went to a high school for the arts in Baltimore, with a focus on stage. He says it wasn't until college that he got the notion to become a writer, mixing his passion for theater with that of music and piano, which he has played since childhood.
Though Gwon has included gay characters in his works, he has yet to write a musical centered on gay themes. "It's sort of my experience in life," he says, "that just because a person is gay, it doesn't mean that he goes around and the main idea of his life is that, 'I'm gay and I'm conflicted about that,' and that this is what drives every thought in his mind or everything that he says."
Gwon concedes he's had it luckier than many. "I've been out since I was in college," he says, "and from my family, I never really experienced any sort of obstacle or backlash or anything."
The 31-year-old New York University graduate has several musicals in the works, including Cloudlands, co-written with Octavio Solis, which a noted Southern California company will premiere next spring.
In 2009, Gwon had his first musical appear off-Broadway, Ordinary Days. He's ready to accomplish that again — and more. Just last week New York's Merkin Concert Hall at Kaufman Center included a "sneak peek" of The Boy Detective Fails as part of an annual performance program, and later this month, New York's elite Festival of New Musicals, will offer a staged reading of another Gwon musical, Bernice Bobs Her Hair.
"I'm still working hard to be like Billy Argo," he laughs. And Billy Argo may succeed yet.
The Boy Detective Fails runs to Oct. 16 at 'Signature Theatre, 4200 Campbell Ave., Arlington. Tickets are $29 to $86. Call 703-820-9771 or visit signature-theatre.org.
Read Metro Weekly's review of "The Boy Detective Fails."