"Basically, they were playing all of the wrong music," Mark Rutstein says about Cobalt when he became the dance club's manager three years ago. "They were stuck in the yesterday [of] big-room gay anthem music. … The younger generation doesn't want to hear all house music anymore."
Now, most nights at Cobalt — weekends, even — offer pop-oriented, radio-friendly music. It's not just dance-pop but also hip-hop, indie rock and Latin. And there's only one true night of house, the monthly Saturday night "JustCircuit" party.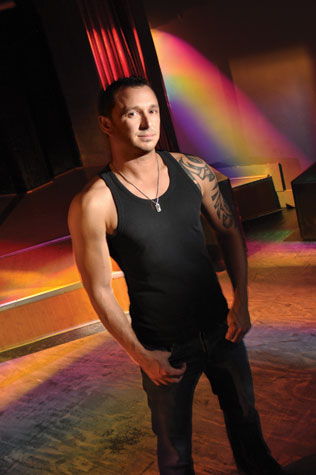 Mark Rutstein at Cobalt
(Photo by Todd Franson)
"[Changing that] wasn't a welcome step to everybody," says Rutstein. "But we definitely are attracting more of the younger generation."
In fact, to some extent, the switch helped save the gay business at 1639 R St. NW. This Saturday, Oct. 22, Cobalt celebrates its 10th anniversary under the ownership of Eric Little. (Little bought the venue after the original Cobalt suffered fire damage and was shuttered.)
But the popular 17th Street venue almost didn't make it past year seven.
"Oh yeah, business was bad [three years ago]," explains Rutstein. Little, who also owns JR.'s down the street, had actually tried to chase his blues away by putting Cobalt up for sale. But the sale fell through — remember the 2008 financial crisis? So Little recruited Rutstein, a former JR.'s bartender with additional bar and restaurant management experience, to see if he could fix things.
Turns out, he could. "Cobalt's had its ups and downs, but it's booming now," says David Perruzza, vice president of Cobalt and JR.'s. "It's the place to be. Mark did a great job of turning it around."
Rutstein did it by "changing with the times," as well as by removing "any and all stigmas" about the business, which is really three ventures: Level One restaurant, 30 Degrees lounge and the Cobalt dance club. "They were all failing," he says.
Rutstein helped improve the community standing of the third-floor Cobalt not only by offering more widely appealing, poppier, current music, but also by helping propel the careers of a new generation of club DJs, most notably resident DJ Drew G, now nationally popular. Rutstein also enhanced Cobalt's reputation through significant upgrades to its sound and lighting equipment.
The ground-floor restaurant Level One, meanwhile, was suffering because the previous occupant, FoodBar, according to Rutstein, "had terrible food." Customers assumed little had improved, even with a new chef, so he pushed for greater industry recognition through awards and critical praise.
Finally, Rutstein installed a separate DJ booth and sound system in the second-floor 30 Degrees lounge, just one way he worked to give the space personality and flair distinct from Cobalt.
Perruzza notes that "30 Degrees was the first lounge of its kind in D.C.," opening years before the old Halo and the new Number Nine. It was also D.C.'s first public space to ban smoking, partly an attempt to keep the space's high-end furnishings as unblemished as possible. But the ban was short-lived, lasting maybe two months. Smokers were used to lighting up anywhere they pleased, and Perruzza says it became a lost cause for employees to police offenders. That is, until Jan. 1, 2007, when D.C.'s citywide ban on smoking in restaurants, bars and other public places took effect.
Rutstein, also a D.C. real estate agent, credits Cobalt's longevity, in part, to its lasting gay appeal, right down to its choice location in the "gayborhood."
"We're still a staple in the community," he says. "You know that [Cobalt's] a place that you can go and feel safe, feel comfortable. And you know that we're going to have quality entertainment."
Cobalt's 10th Anniversary Party is Saturday, Oct. 22, with open bar from 10 to 11 p.m. Entertainment by Amanda Lepore and DJs Oren Nizri and Tom From Prague. Cobalt, 1639 R St. NW. Cover $8. Call 202-232-4416 or visit cobaltdc.com.