The defense team of former Army Lt. Dan Choi was dealt a setback on Oct. 11 after a U.S. District Court judge ruled that the judge overseeing Choi's trial cannot allow Choi's attorneys to pursue a defense of selective or vindictive prosecution following a 2010 arrest while protesting in front of the White House, according to the Associated Press.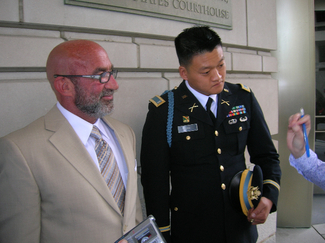 Chief Judge Royce C. Lamberth, the U.S. District Judge for the District of Columbia, ruled to issue a writ of mandamus ordering that Magistrate Judge John Facciola cannot take into account whether prosecutors were treating Choi differently because he was openly gay and protesting the military's now-defunct "Don't Ask, Don't Tell" policy, which prevented gay and lesbian servicemembers from serving openly.
On Oct. 17, Choi's lawyer, Robert Feldman, told Metro Weekly that an appeal has not yet been filed and that the legal team is currently reviewing their options. A decision is expected this week.
Choi was arrested in November 2010 after he and 12 other gay rights activists chained themselves to the White House fence while protesting "Don't Ask, Don't Tell," which was repealed this September after the passage of the Don't Ask, Don't Tell Repeal Act in December 2010. Following his arrest, Choi was tried in federal court on a charge of failure to obey a lawful order by a police officer.
By preventing Choi's lawyers from pursuing a defense of selective or vindictive prosecution, Lamberth's ruling also inhibits them from requesting information, documents or other correspondence relating to Choi's arrest and prosecution which they would need to prove the government unfairly targeted Choi.
In an Oct. 7 hearing before Judge Lamberth, Assistant U.S. Attorney Stratton Strand argued that Facciola had erred in finding prima facie evidence that would allow Choi's lawyers, Robert Feldman and Norman Kent, to pursue a defense of selective or vindictive prosecution. Strand said that because the trial had already begun, double jeopardy would prevent the government from re-trying Choi if the case were dismissed or if Facciola acquitted Choi based on the finding of selective or vindictive prosecution.
Feldman argued that evidence and testimony from the trial had revealed the government singled out Choi for arrest and prosecution and trying him in federal court for a violation similar to two prior arrests that were handled differently. Following those other arrests, Choi was charged in D.C. Superior Court, and the charges were eventually dropped.
But Lamberth asked Feldman why he had not filed a defense of selective or vindictive prosecution beforehand, echoing government arguments that such a defense should have been raised prior to the start of the trial, and not during.
In response to Lamberth's question, Feldman argued that Facciola's role as both judge and jury allowed him to consider constitutional issues and determine from testimony given by Choi, his fellow protestor Captain James Pietrangelo II, and officials from the U.S. Park Police whether vindictive prosecution could be used as a defense.
In a prepared statement, Feldman said Choi's legal team intends to appeal to the D.C. Court of Appeals, which can review Lamberth's decision to grant the government's petition for mandamus.
"Judge Lamberth's decision to grant mandamus and therefore exclude Dan's defense of selective or vindictive prosecution would be otherwise unreviewable, because it is not a decision by Judge Facciola that we could then have reviewed upon appeal upon a theoretical conviction," Feldman said in the statement. "This derives from the fact that Judge Lamberth lacked jurisdiction and had to jump through unique and novel hoops to reach this unprecedented result."
Feldman also viewed Lamberth's ruling as depriving Choi of his right to a dismissal under Federal Criminal Rule 48, which could be granted if Choi's right to a speedy trial has not been met. According to the Federal Rules of Criminal Procedure, "the court may dismiss an indictment, information or complaint if unnecessary delay occurs in presenting a charge to a grand jury, filing an information against a defendant, or bringing a defendant to trial."
Feldman said, "We simultaneously stand ready to continue the criminal trial before Judge Facciola and are still confident that Judge Facciola will find our client not guilty."
A spokesman for the U.S. Attorney's Office declined comment on the case.
[Photo: Feldman, left, and Choi (Photo by John Riley.)]