Mayor Vincent Gray's Office of GLBT Affairs held a small, primarily governmental event Oct. 11 as part of National Coming Out Day in order to pledge to the LGBT community that his administration is prioritizing the community's concerns and creating a welcoming atmosphere for LGBT government employees and consumers of District services within various agencies.
Speaking inside the Old Council Chamber at One Judiciary Square, Gray hailed the District's history of being progressive when it comes to adopting policy for the betterment of LGBT citizens, including being among the first to successfully pass domestic partnerships in 1992 and marriage equality in 2009.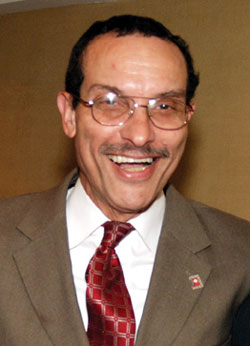 Vince Gray
(Photo by Ward Morrison / File photo)
"I want to thank you all for not only what you've done, but what you're going to do to improve outcomes for people whose sexual orientation, certainly in some parts of this country, is not only questioned but ridiculed," Gray said. "This is not a city that will tolerate it and we're going to be a leader on this front."
Gray's outreach to the community comes a year after a tough mayoral primary against former Mayor Adrian Fenty that saw Gray lose historically gay precincts in the city, even though he had been supportive of LGBT issues during his tenure as chair of the City Council.
In his speech, Gray also highlighted a number of LGBT-favorable initiatives either launched or endorsed by his office, including the enrollment of an all-transgender class of individuals in the Department of Employment Services' (DOES) subsidized employment program, known as Project Empowerment; a strategic plan to create an LGBT-inclusive atmosphere in D.C.'s public schools (DCPS); and initiatives by the District's Child & Family Services Agency (CFSA) encouraging gay couples to become foster parents and providing support for straight couples who are raising and mentoring LGBT foster children.
Representatives from DOES, DCPS and CFSA attended the event and spoke specifically about those initiatives and their efforts to be more inclusive of LGBT individuals. Councilmember Jim Graham (D-Ward 1) also spoke to the assembled audience of about 30 community members and District government employees of the importance implementing and carrying out legislation and executive orders that protect LGBT people from discrimination.
Gray also acknowledged criticisms by members of the LGBT community over a number of issues, including high unemployment among and hiring discrimination against transgender residents, the nature and frequency of sensitivity training for various departments, violence against LGBT youths inside the juvenile justice system, suicides of LGBT teens, and the past summer's string of violent crimes against members of the LGBT community.
Gray later told Metro Weekly that his commitment to finding solutions to these problems was strong.
"Whether a person is gay or lesbian or bisexual or transgender, or questioning who they are, they will find acceptance in this city and this government, without reservation," he said.