Jason, 24, has a strong relationship with God, but is hesitant about church. He used to love it, even participating as a pastor's assistant. Then the rumors started the he's gay. "That took a huge toll on me," says the native of Oxon Hill, Md. "I'm not as involved as I used to be. The only reason I'm still going is it's right down the hill from my house and I'm really lazy on Sunday mornings." These days, Jason's passion is a bit more focused on modeling and poetry. There's also the dancing – at Bachelor's Mill, Fireplace, Omega and Town – even if he hopes you don't mistake his style for a come-on. "It's exotic and erotic. I kind of give people the wrong impression. But if my song is on, you're going to get it."
What's on your nightstand?
Lube and a clock.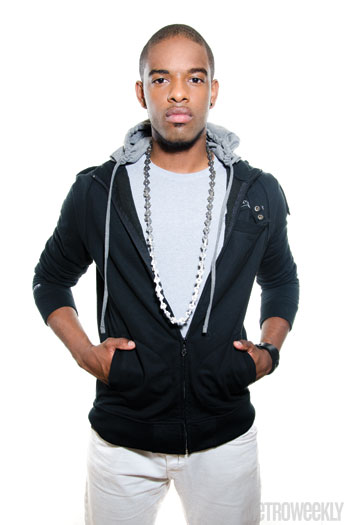 What's in your nightstand drawer?
I don't know. Some random stuff.
If the lube's on the nightstand, where are the condoms?
At CVS. I'm not sexually active like that. Right now I live with my mom and sister — till I can get the hell out of here.
What are your television favorites?
Anything that isn't a reality show. I hate them. Glee, True Blood, Nurse Jackie.
What was your favorite cartoon when you were a kid?
Duck Dodgers.
What superhero would you be?
Juggernaut. Because I say, "I'm the Juggernaut, bitch," all the time.
Who's your greatest influence?
I'm a really spiritual person, so God. I believe he made me gay for a reason. He's my greatest inspiration.
What's your greatest fear?
Succeeding. No matter how big or how famous, I would hate to change. My partner says I'm a bit of an asshole when I go to photo shoots.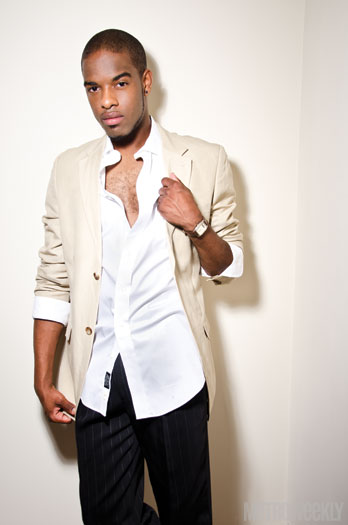 Pick three people, living or dead, who you think would make the most fascinating dinner guests imaginable.
Ellen DeGeneres, Ella Fitzgerald and Dave Chappelle.
What would you serve?
Skittles and Starburst. I cannot cook at all.
How would you describe your dream guy?
Six-pack abs, extremely attractive. Michael Jai White.
Define good in bed.
Someone who doesn't answer his phone in bed. It's all about me now.
Who should star in a movie about your life?
Me, because I'm selfish. Or Brandon Jackson.
Who was your first celebrity crush?
Leonardo DiCaprio.
Who gets on your nerves?
People who talk down to other people.
If your home was burning, what's the first thing you'd grab while leaving?
My wallet. Everything else can burn.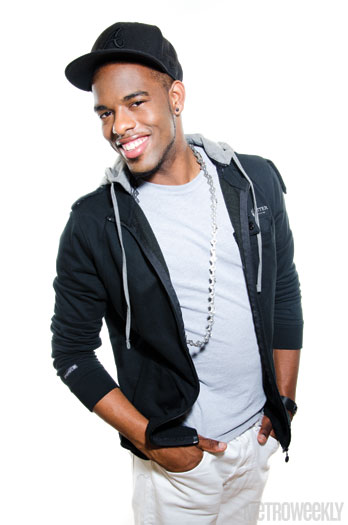 What's your biggest turn-on?
Intelligence.
What's your biggest turn-off?
Ignorance.
What's something you've always wanted to do but haven't yet tried?
Streaking in New York City.
What's something you've tried that you never want to do again?
Bungee jump.
Boxers, briefs or other?
Anything that makes my butt look good.
Who's your favorite musical artist?
Ella Fitzgerald.
What's your favorite website?
Google.
What's the most unusual place you've had sex?
In a car wash.
What position do you play in the big baseball game of life?
Pitcher.
What's your favorite retail store?
Nordstrom.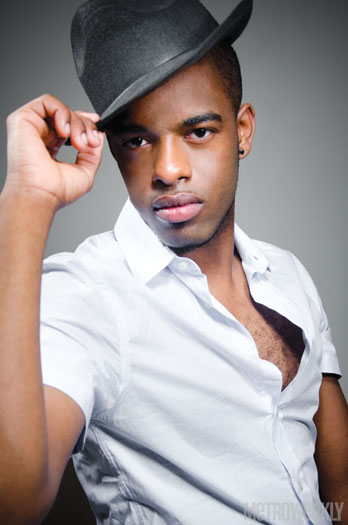 What's the most you'll spend on a haircut?
$20.
What about on shoes?
$100.
What's your favorite food to splurge with?
McDonald's french fries.
What's your favorite season?
Autumn.
What kind of animal would you be?
Leopard.
What kind of plant would you be?
Venus flytrap.
What kind of car would you be?
Black Lamborghini.
What are you most grateful for?
Life.
What's something you want more of?
Peace. Unfortunately, that's not going to happen anytime soon.
State your life philosophy in 10 words or less.
If life knocks you down, fuck it, grow up.