They started as a small group of dancers at the area's Atlantic Stampede LGBT rodeo 17 years ago and have since gained national and international recognition for their act, but the DC Cowboys Dance Company is "going out on top" by announcing a farewell tour for their 18th and final season in 2012.
"The farewell tour really gives us an opportunity to show our appreciation to all of our fans who've been watching us, and cheering for us, and supporting us all these years," says Kevin Platte, the amateur dance troupe's executive and artistic director. "We want to give them a chance to see us one more time so we can both say 'goodbye."'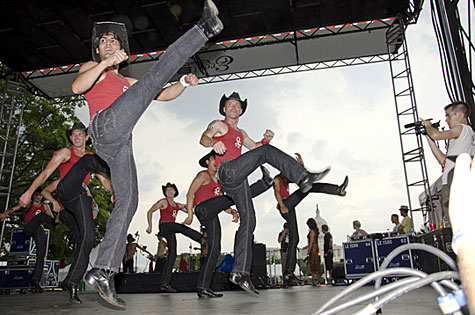 Platte is still in the process of organizing the tour, but expects to travel to different cities all over the world in early 2012, ending with a final performance at D.C.'s Capital Pride Festival in June. He says the tour will include a mix of current and veteran dancers, as well as new dancers, who will be able to begin auditioning Nov. 1 for the group's final tour.
"It's time," Platte says of the decision to disband. "We've had a great run, we've achieved and exceeded all of our goals that I set for the organization, which was to have fun; to provide a healthy performance outlet for gay men; strive to develop excellence in the performing arts; to develop a worldwide fan base; to perform on national TV; [and] to perform at so many prestigious venues like the Kennedy Center."
Platte's also proud of the group's community service, providing entertainment free-of-charge to service organizations working in HIV/AIDS, which remains the primary health concern for gay men 17 years after the Cowboys' inception.
Others might've chosen to hold on a little longer.
Chad Townsend, a 10-year veteran of the DC Cowboys who serves as the group's communications director, has fond memories. His most memorable experiences include performing live on the NBC TV show America's Got Talent and touring various European cities.
"Part of me is pretty sad," he says. "I was hoping we would get to 20 years."
Townsend says the most difficult part of serving as communications director was trying to sell a group of gay male dancers to more mainstream outlets. Some parts of the group's act were "toned down" at the request of audiences that were considered "family-friendly," but the group was never denied a chance to perform.
Keith Hixson, an 11-year DC Cowboys veteran, also remembers downplaying the group's gay identity – even going as far as editing their website and removing pictures from a 2008 calendar shoot – and toning down parts of the act that were considered "too risqué" for certain audiences, such as when they performed on America's Got Talent and competed for the votes of young girls and their parents. He says the experience still ranks among the best of his dancing career.
Hixson adds that even though he grew up in rural Tennessee, it wasn't until he was an adult that he developed an appreciation for his country roots. Dancing at Remington's, a local country bar, someone recommended he try out for the DC Cowboys.
"I was in the club dancing to the disco songs," Hixson remembers. "But country was always in my soul. Once I started with the Cowboys, I was done with disco."
The biggest challenge, he says, has been the level of commitment required of Cowboys, missing a few shows and tours because of his job working for Hermès.
"It does seem like a full-time job sometimes, because it does require a lot of practice," says Hixson.
Barbara Kurzeja, the Cowboys' stage manager, first saw the DC Cowboys perform in 2005. The minute she saw them, she wanted to get involved. In 2006, she found an opening, taking advantage of a decision by the DC Cowboy's then-stage manager to take a break from touring.
"I volunteered to fill in, not realizing that it would become a full-time gig," she says. "But I've loved every minute of it. I wouldn't trade it for the world."
Because she has bonded with the dancers, whom she considers a family of brothers, Kurzeja has mixed emotions about the end of the troupe, but remains hopeful that many of the men will continue performing.
"I firmly believe there will be some kind of spin-off," she says.
Platte, too, says he's confident he and the other dancers will remain part of Washington's arts community even after the troupe disbands – though what shape those plans will take is anybody's guess.
"It's not goodbye. It's see you around – and in different locations," Platte says. "You never know where these boys are going to pop up."