Although National Stonewall Democrats executive director Michael Mitchell says is has "been an honor and a privilege to lead [the] organization" over the past two years, he also told the organization's board members on Oct. 17 that he's leaving when his current contract ends at the end of the month.
After making those calls, he says, "It's certainly been an honor and privilege to work with the people I've been able to work with."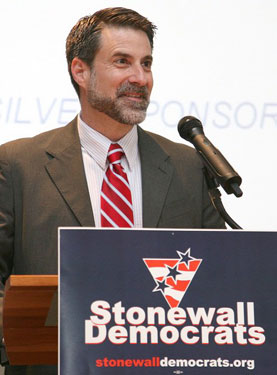 Michael Mitchell
In an extended interview with Metro Weekly in his Massachusetts Avenue office, a space shared by several progressive LGBT organizations, Mitchell says that his commitment when he came to the organization was a two-year one. "We're at the end of that contract," he says, "so it just feels like the right time for me personally to not renew my contract."
Board chair Craig Roberts, who spoke with Metro Weekly later on Oct. 17, says of the decision, "I asked him earlier in the month what his intentions were going to be … and he decided that he was going to leave us at the conclusion of his contract, which is entirely his decision to make.
"That was his decision and his decision alone. Nobody suggested anything otherwise."
Jerame Davis, who currently is the group's affiliate services director, will be the interim executive director.
As for Mitchell, he says, "There are certainly things I wish I would have done differently or could have done differently – we all have that – but on the whole, I came to accomplish several things, I accomplished several of those things, and I'm excited to see what happens with Stonewall next."
Roberts says, "We're sorry to see Michael go. We understand. He's done great things for us, and it hasn't been easy. If I were in his shoes, I'd have probably done this same thing.
"It's been an exhausting couple of years."
The nation's economic picture and its impact on nonprofit fundraising, as well as the challenges of finding funding for Stonewall Democrats in an increasingly pro-LGBT Democratic Party, have caused fiscal headaches for Mitchell and the group.
"Like many nonprofit organizations, we're struggling, and I'll just come out and say that. And I don't think that's necessarily a secret," Mitchell says. "In this economy, and, with the way politics has been going, we've been struggling to get donations in. We've seen a recent uptick in that, which is heartening. I'm excited about that, but we have struggled."
A lack of funding led to Mitchell being informed that he was going to be laid off at one point earlier this year, until the board was offered and accepted a last-minute anonymous donation that enabled the organization to keep Mitchell on board.
Debate over the donation was heated, however, and several board members have left the organization since then. Currently, only six of the 15 possible board seats are filled.
Also, Mitchell acknowledged, the organization is behind in filing its annual Internal Revenue Service-required Form 990, telling Metro Weekly, "We have not filed our 990s for 2009, 2010, and we are in the process of getting those done, so we expect to have those done by, if not by the end of the week, then certainly next week."
Asked to pinpoint the cause or causes of the financial struggles, from Mitchell to the board to the economy, Davis tells Metro Weekly, "It's hard to say. The economic climate was certainly a factor for us. Having a reduced size board is definitely a factor, because more board members mean more fundraising capacity. So, many factors … played into it."
Mitchell, though, acknowledges his role: "Well, look, the executive director is responsible for everything. There were certainly goals that I set with the board that weren't met, and I fully acknowledge that."
Of the board member aims of giving or getting $10,000 in donations – called a "give/get" – annually, Mitchell adds, "But there were also goals that the board set for themselves, with their give/get, that weren't met. This is a fundraising board, and there have been some real rock stars, who've shown up and done some really amazing things, and some folks who never made their give/get."
Looking back at the difficulties, Mitchell also points to a larger picture, saying, "We really, as a community, need to step up our game when it comes to giving. We need to understand that organizations like [Stonewall Democrats] run on an incredibly tight and small budget, and it wouldn't take that many people with that much money to keep this organization doing phenomenal work."
In some ways, all three say, the work has changed – although in other ways it is basically the same as when Rep. Barney Frank (D-Mass.) called for the formation of the group in the 1990s to increase the visibility of LGBT issues and pro-LGBT candidates within the Democratic Party.
"It's the same overall mission, electing pro-equality Democrats and holding them accountable," says Davis, "but I think that the way that we operate and the things that we do are different because of the success that Stonewall and pro-equality Democrats have seen over the past 13, 15 years."
The downside of that, Mitchell says, is that "[w]hen LGBT people become part of a mainstream, and in this case we'll say the mainstream is the Democratic Party, and they're accepted into the mainstream, then their funding sources more easily go into that mainstream."
The mainstream being the Democratic National Committee, which has its own Gay and Lesbian Leadership Council, and specific Democratic candidates, as well as, for some donors, bipartisan organizations such as the Human Rights Campaign and the Gay and Lesbian Victory Fund.
Davis says there's still a place for Stonewall Democrats.
"There are certain things that only a partisan organization can say and do. And, we have two partisan organizations on the right at this point, and there needs to be an answer to that on the left – and traditionally that's been Stonewall."
Roberts echoes that point: "It doesn't matter how good the DNC is on LGBT issues, if, for instance, the Democratic Party in Mississippi is horrible and they elect a Democrat to Congress that doesn't care about the LGBT community.
"So that's why we need to have boots on the ground everywhere," he continues. "The work is never-ending, regardless of how things might look in Washington or however many successes we might have on a national level, there's still a lot of work to be done in the various states."
Specifically, Mitchell points to the group's more than 70 affiliated local organizations and its new Elect Equality program as two keys to the ongoing work of Stonewall Democrats.
"Now, we have something that I think is unique to our organization, which is our affiliates – affiliated LGBT clubs from around the country, some of which have been around for 30-odd years, who are doing really amazing, on-the-ground work."
Mitchell calls the Elect Equality campaign a success, despite its less-than-overwhelming win percentage.
"We specifically chose candidates who were on the edge because we wanted to make a difference in those races. And, in the case of Tim Bishop, in New York-1, I think we were partly responsible for his win. He won by 250 votes."
For now, though, the questions are much more direct.
Asked about the six board members – three women and three men – Roberts says, "Certainly, I would love to have as many as 15 board members. And, we have been looking all year, but, when you've only got six board members, that's just that much less people to look for other board members.
"But, we're looking for people that can help fund the organization, obviously people that are Democrats, obviously people that support the LGBT community and its goals," he says. "We would like to have gender diversity, racial diversity and geographic diversity."
Asked about the board's goals for Davis, Roberts says bluntly, "The situation is so new and developing that we haven't developed specific goals for Jerame."
Roberts says that the board has not yet met to discuss Mitchell's decision not to seek to have his contract renewed, let alone to plan for his successor. A search committee will be formed and a job posted, but no timeline has been set.
As for what's next for Mitchell himself, he says, "I don't know. Some time off would be nice.
"I stay strongly committed to the Democratic Party, and I stay strongly committed to seeing pro-equality people elected. If there's a way that I can be used to accomplish that, and make a difference in some way, I'm certainly happy to do that," Mitchell says. "This is a good time for me to take stock of where I'm going and what's next."
For Stonewall Democrats, Roberts says, "We have a clear idea of what our mission is. All we need is the money to fulfill that mission."