In the sad hours that followed the Tuesday evening news that the legendary and indomitable Frank Kameny had died in his home at the age of 86, the immediate outpouring on Facebook, Twitter and other sites showed that every LGBT activist in Washington has a Frank story to share.
I have more than one, because I'm fortunate enough to have had a job that allows me to meet and befriend many of the people whose work actually made my own life as an openly gay man possible. But it's my first memory of Frank that I keep coming back to.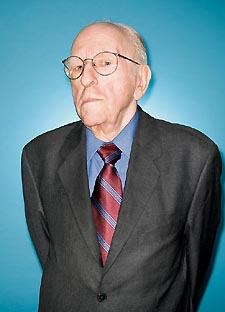 Frank Kameny
Photo by Todd Franson
In early 1993, the D.C. gay and lesbian community was focused on the effort to repeal the city's sodomy law — an effort that may seem quaint nearly 20 years later as we bask in the city's marriage-equality law, but which was one of the most important cornerstones of LGBT movement. Naturally, Frank Kameny was one of the spearheads of the effort along with his compatriots at the Gay and Lesbian Activists Alliance (GLAA).
Still new to activism at the time, I was nervous to be among the hundreds who showed up early on a January morning to testify on the repeal legislation before the D.C. Council's Judiciary Committee. But there was Frank, raring to go. He was the first public witness of the day, but he was already warmed up and ready to deliver his forceful and stirring testimony that set the tone for a day filled with both "gay is good" hope and some truly odd homophobia.
It was inspiring and helped give me the courage I needed to give force to my own testimony — much later in the day, as I was around the 190th or so person to testify. It was a battle our community went on to win, advancing the groundwork for LGBT equality that we continue to build today.
And that's the point that sticks with me: Frank Kameny won. He saw sodomy laws repealed in D.C. and overturned nationwide. He helped destigmatize gay identity by fighting to end the classification of homosexuality as a disorder. He received an apology from the federal government that fired him, signed and delivered by the openly gay director of the Office of Personnel and Management, John Berry. He was a thorn in the side of the powerful and the homophobic.
Not long after the news of Frank's death broke, Robin McGehee of Get Equal tweeted, "Sickening that Dr. Frank Kameny, #LGBT hero died less than [equal]. How many will we lose w/o their dignity & equality." While I understand the sentiment, it misses the point. Kameny came out in an era of enforced and official discrimination that's, frankly, inconceivable to many of us today. Looking at the arc of his life and the change he had a hand in creating should be a cause for celebration, even as we mourn his passing.
No victory is complete, nor is any life. Should I die next week, next year or next decade, there will still be wrongs in the world that would anger me, that I would consider unfinished business. That's just the nature of an imperfect world. The question is not whether we leave behind a perfect world, but whether we leave behind a better one.
We live in a better world because of Frank Kameny. That's the best Frank story of them all.