It's difficult to watch someone with whom you've had close contact over the years, someone whom you admire, visibly edge toward life's finish line. But whatever physical pain Frank Kameny may have encountered near the end, he never showed it and complained little. He continued to show up at events — the last time I saw him was in May, at the Academy's Golden Boy Awards, where the group surprised him with a check for $3,500 — lending his activist's spirit and spark. And wherever he turned up, people would gather around and pay homage to this legend who paved a pathway to our equality.
My first encounter with Frank came in the summer of 1994 for a Metro Weekly cover interview. I was so engaged by the man and his lively, impassioned way of spinning a story, his obvious, unflagging commitment to LGBT rights, that I couldn't bear to confine the interview to a single issue. Instead, our first Frank Kameny interview turned into a four-part series.
We featured Frank again on a 2006 cover, with Will O'Bryan doing the interview honors and Todd Franson working his photographic magic. (One of the previously unpublished results of that shoot graces this week's cover.) Prior to that, Frank involved himself with Metro Weekly in rather unconventional ways. Twice I called upon him to participate in our April Fools' editions — the first time as a preacher of a fabricated city called "Swish Hollow," a joke made richer for those who knew Frank was an atheist. For the piece, Frank only had to pose for a photo in his study, at his desk, upon which lay piles upon piles upon piles of manila file folders stuffed with newspaper clippings. I'll never forget that desk, or its organized chaos.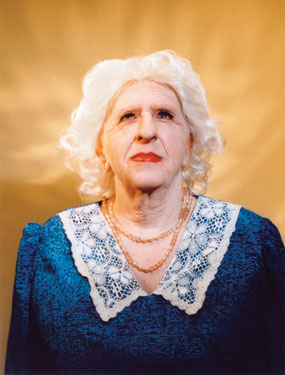 A few years later, Frank went even further for us, donning drag as "The World's Oldest Living White House Intern." The cover revealed him in full makeup and a fluffy, cotton-white wig, sporting a blue dress and pearls, as he was groped by a "faux" Bill Clinton.
And that's the thing I will always treasure about Frank — he had an amazing sense of humor and was always game for anything. Certainly, he never took the LGBT cause less than seriously, yet he rejoiced in being part of a greater joke.
And that's the one thing we tend to forget about those whom we elevate to icon status: They are people. It's just that some of them — like Frank — are more extraordinary than others.