Mon Dieu! If Les Misérables is 25 and I've been a fan since the beginning, then I must be — well, I guess I'm no Cosette in the woods anymore. To be precise, the show is already 26, since the new 25th-annivesary touring production launched last year, a quarter-century after the 1985 birth of Les Miz in London.
Still, this tour almost coincides with the 1986 pre-Broadway run of the megahit musical at the Kennedy Center. But if you head to the Opera House in search of what started it all stateside, there's little left — visually and orchestrally, at least — to speak to Les Miz's roots.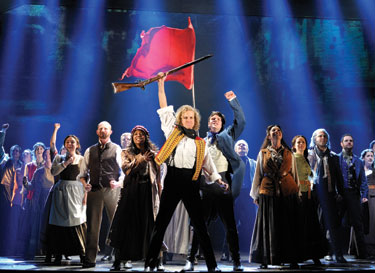 Les Miserables 25th Anniversary
(Photo by Deenvan Meer)
And that's a shame. I might have conceded a few refreshments here and there — playing down the synthesizer-driven sound in the orchestra pit; simplifying the behemothian barricades that form a focal point for the revolutionary action — but what's been done to this Les Miz is simply too much, for no compelling reason.
Surely longtime fans wouldn't stay away from a production of Les Miz without all the 21st-century whiz-bangery that's been imposed upon it, and surely Les Miz virgins can be persuaded to enter something more akin to the original temple. Yet here we are with a Les Miz stripped of signature elements — the turntable; the relatively simple, broad canvas on which indelible characters took shape and from which indelible melodies soared — in favor of something cinematically cluttered: a stage filled with buildings that are meant to evoke Paris but don't really, and without even the bold projections that announce dates and locales ("1815, Digne"; "1832, Paris") in a manner that was both practical and dramatic. (Remember that the milieu of Les Miz isn't the French Revolution, but a later student-led uprising against a government that was unsympathetic toward the poor.)
The thing is, by December next year, we'll have a cinematic re-envisioning of Les Miz, with Hugh Jackman as Jean Valjean and Russell Crowe as Inspector Javert, that will undoubtedly shape how Les Miz lives on in cultural memory. The film will redefine what Les Miz sounds like — vocally and orchestrally — and what it looks like. Why shouldn't a 25th-anniversary production of the stage creation celebrate what made it so durable for so long, instead of creating a stopgap version that is neither as strong as the original nor as boundary-bursting as the film is certain to be?
The visual gimmick here — and it is a gimmick, make no mistake — is that new sets are inspired by the paintings of Victor Hugo. Now, the French national hero who gave the world the novel Les Misérables may or may not have been a great painter. But why should that even be a question to consider? He laid the narrative foundation on which a great musical was built, using a score by Claude-Michel Schonberg, French librettist Alain Boublil and English lyricist Herbert Kretzmer. Hugo's mastery of the pen is what's worth celebrating, not his handiwork with a brush.
Yet, projections of his paintings form the backdrop of this Les Miz — often set into motion in a filmlike technique that won't age nearly as well as devices such as the turntable did. The new orchestrations, meanwhile, have been turned up to 11 on the lushness dial, which means that they're always quite pretty, but not always as dramatically driving as they once were — and should be. In other words, it's change for change's sake, not because it serves the overall theatrical experience.
Gratefully, the performers recruited for this questionable exercise are top-notch. As Jean Valjean, the Frenchman pursued relentlessly by Inspector Javert after serving 19 years for stealing bread and then breaking parole, J. Mark McVey is a vocal marvel, soaring through numbers such as "Who Am I?" and "Bring Him Home." His characterization of Valjean is more superheroic than any I've ever seen. When he finally exposes his chest to reveal the prisoner number, 24601, branded there, I half-expected to see a Superman "S." That's how no-mere-mortal McVey's Valjean comes across.
Andrew Varela creates a Javert as beautiful as you've ever heard — in "Stars" and in his suicidal "Soliloquy" (during which his moral framework crumbles after his life is saved by Valjean at the barricades) — and one who's decidedly more kinky, too. In an early confrontation with Valjean, Varela's Javert promises the former convict a return to bondage, brandishing with sadistic glee the chains to do the job. Creepy, effective stuff.
LES MISERABLES



To Oct. 30
Kennedy Center
Opera House
$39-$155
202-467-4600
kennedy-center.org
As the struggling-alone Fantine, Betsy Morgan survives overwrought staging (by directors Laurence Connor and James Powell) to deliver a gut-wrenching "I Dreamed a Dream," before making her death-bed entreaty to Valjean to rescue her daughter, Cosette (Maya Jade Frank, who alternates with another young actress, Juliana Simone), from greedy innkeepers, the Thenardiers (Richard Vida and Shawna M. Hamic, in surprisingly understated and effective performances), whom Fantine has been paying to raise Cosette.
Later in Paris, it's the love-at-first-sight bond between an older Cosette (a requisitely angelic-voiced Jenny Latimer) and student revolutionary Marius (swoon-worthy Justin Scott Brown) that sets off Valjean's questioning of the life he's built for himself and his adopted daughter — an inner conflict that drives him to join the students at the barricades.
Disappointingly less compelling is Chasten Harmon as Eponine, a Parisian waif who loves Marius from afar. Although the character has one of the show's most famous tunes, "On My Own," Harmon is allowed to over-sing it — a la "French Idol," if you will — to a jarring point of distraction.
Ultimately, as much as you may love Les Miz (and I, for one, love it a lot), this is likely not a production to keep your passions stoked. You may want to see it for the pleasures it does deliver, but prepare yourself for a musical treasure that hasn't been allowed to age nearly as gracefully as it deserves to.