Washington is a vibrant and dynamic city. For four years in recent history, however, some of D.C.'s pizzazz was muted, hidden behind a pall of propriety.
"I didn't realize how well known and well regarded Cookie was till she went into semi-retirement for four years," says Christopher Dyer, the man behind Cookie Buffet. He was also, in sense, the man behind Mayor Adrian Fenty during his four years heading D.C., with Dyer in charge of the Mayor's Office of GLBT Affairs. That position ended with Vincent Gray coming on as the city's current mayor at the beginning of this year.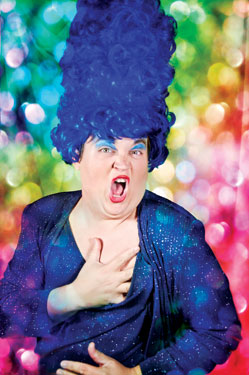 Cookie Buffet
(Photo by Julian Vankim)
"Honestly, I was too busy working for the mayor," says Dyer of his drag alterego Cookie Buffet's time off. "And I didn't want to deal with any possible blowback."
Today Dyer is a free agent and Cookie Buffet is back in full form. On one hand, that means all rainbow boas and a bouffant that would make Marge Simpson envious. On the other, it also means doing good works.
"About 10 years ago, I discovered that when I raise money for charity as a drag queen I'm more successful," says Dyer, whose recent charitable commitments include The Center, D.C.'s LGBT community center, and Reel Affirmations. But that's Dyer.
With Cookie, it's all about Wig Aid. In the past, the Wig Aid cabaret has helped Cookie raise money for groups such as the Sexual Minority Youth Assistance League (SMYAL) – certainly a pump that fits, in that Dyer founded the city's Youth Pride Alliance in 1996. These days, Cookie is all about the Wanda Alston House, a transitional home for LGBT youth, operated by Transgender Health Empowerment, one of only a handful in the world dedicated specifically to help homeless LGBT youth. To that end, a resurgent Wig Aid event at Town Danceboutique in June raised about $2,000 for the home. On Saturday, Oct. 15, Cookie is breaking out the stops again with "Wig Aid Live: The Sequel."
"Get your ass out there," advises Dyer, with shades of Cookie poking through. "It's going to be a hell of a show. You'll never see a group of drag queens sing live like this in D.C. It's rare."
Entertainers lined up for this good cause include Brandon Biller, Ki Ki Frost, Gladys Kravitz, Sophie-Anne LeClerq, Ann C. Michaels and Heliconia Pink.
"You get to support an incredibly important cause," Dyer says of Wanda Alston House and its residents who are studying or working, and who would otherwise likely be homeless. "It's tough times, but even $3,000 or $4,000 means these guys get to eat for six months.
"And you might get to hear 'Free Bird."'
Wig Aid Live: The Sequel is Saturday, Oct. 15, from 8:30 to 11 p.m., at Town Danceboutique, 2009 8th St. NW. Ages 21 and older. Cover is $10. For more information, visit the Wig Aid Live: The Sequel event page on Facebook.