Summer may be over, and so is 1987. With Dirty Girl, you can revisit both.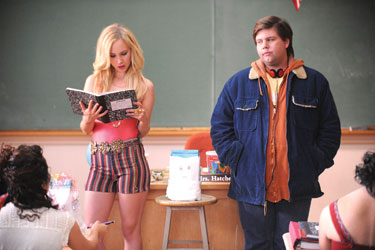 Dirty Girl
It's hot, dismal and dusty. It's the end of the '80s in Norman, Okla. It's also dirty, as in Danielle, the "dirty girl" of the movie's title. Hardly an argument for sex-positive values, Danielle (Juno Temple) is a teenager with some abandonment issues she's trying to alleviate with her high school's male student body. In making herself so readily available, however, her stock begins to drop. That's when she meets Clarke (Jeremy Dozier), the overweight gay boy who hides behind his enveloping hoodie and torch-song fantasies.
The relationship begins in the sort of "special needs" class to which the irrepressible Danielle has been assigned, and where she is partnered with Clarke to act as parents of a flour-bag baby. They find early agreement in the flour-baby's name: Joan. For Danielle, an homage to Ms. Jett; for Clarke, Ms. Crawford. That's not to mean they begin on friendly footing, as Danielle introduces herself with, "You're that fag, right?"
From there, we have Danielle coercing Clarke into a trek to find her long-lost father, and Clarke is simply motivated to escape his homophobic dad (Dwight Yoakam). The other parents in this coming-of-age road trip also earn their keep. Milla Jovovich comes off as genuine Okie as Danielle's mom. William H. Macy also delivers as Danielle's soon-to-be stepdad. And Mary Steenburgen as Clarke's wound-tighter-than-a-tumbleweed, put-upon mother is a scene-stealer. Jovovich may move you with her tears, but Steenburgen's pensive stares pull the emergency brakes on a scene and remind audiences that there is depth to contemplate in this scenario.
DIRTY GIRL




Reel Affirmations
Opening Night
Thursday, Oct. 13
Lisner Auditorium
$20-$40
reelaffirmations.org
The filmmakers themselves contemplated plenty, from the music, to the requisite Reagan print in the principal's office, to the posters on Clarke's walls. There is need, however, to grant a bit of leeway. First, how does the lower-middle-class, doublewide-trailer demographic square with the mint condition vintage Mustang convertible at Danielle's disposal? Second, how can a movie set in the late 1980s with a central gay character not mention HIV or AIDS? Of course, there's also no reason for flour-baby Joan's drawn-on face to change expression. But it does, and it's wonderful. Some of the meat is in the magic, and that means allowing the leeway – not because the filmmakers goofed, but because there is a particular focus on taking audiences to some meaningful destinations. Trust writer-director Abe Sylvia's navigation and you'll find getting there is half the fun, and then some.