We all know that the Moor of Venice is supposed to be a hothead, but is he supposed to be this flat-out hot, too? In the title role in Othello at Folger Theatre, gorgeous Owiso Odero — all rippling robes and rippling abs — carries himself like a man more at home on the catwalk than on the battlefield.
This would rarely be a source of complaint, and it's not a dissuading point here. But it does raise the possibility that villainous Iago doesn't hate Othello because he's black, or because of his superior military rank. Maybe he just hates him because he's beautiful.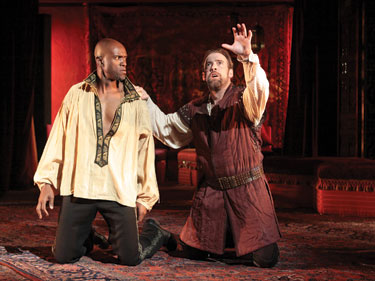 May I have some Moor, please? Othello's Odera and Peakes
(Photo by Carol Pratt)
In fact, it's an overwhelmingly pretty world on the Folger stage that contains the ugliness Shakespeare set out to convey — all the hatred and envy that motivates Iago to destroy Othello, and all the jealousy and rage Othello has within him to destroy himself. Long capes and massive drapes billow as the story progresses from Othello and Desdemona's Venetian wedding bed to the exotica of Cyprus, rendered by set designer Tony Cisek as a sea of rugs and cushions and candlelight.
It's a sensual environment, to be sure, for the suffering that abounds — as if there are no material deprivations that are driving misguided men to make destructive choices. Life's pretty sweet all around, even for Iago (Ian Merrill Peakes), even if he didn't get the lieutenant's job that went to Cassio (Thomas Keegan), and even if wife Emilia (Karen Peakes, also the actor's spouse) isn't as young and fair as Othello's bride, Desdemona (Janie Brookshire).
Iago's still high in the pecking order, and it's party time in Cyprus, where Gen. Othello doesn't even have to bother with the hostile Turks he's been sent to fight; a storm at sea has taken care of them. Surely Iago could kick back, enjoy a few rounds, chill with a hookah and maybe even a hooker, such as Bianca (Zehra Fazal), the one who often puts a smile on Cassio's face.
But no. He's hung up on what he doesn't have, and there are those rumors that Othello's bedroom conquests have included Emilia…. Corrosion has already overtaken Iago's soul, and he'll have no satisfaction until his human targets are hit hard.
OTHELLO



and one half
To Dec. 4
Folger Theatre
201 East Capitol St. SE
$39-$65
202-544-7077
folger.edu
Under the direction of Robert Richmond, Ian Peakes makes Iago quite the charming sociopath much of the time — rugged and scruffy and gleefully aware of how easily those around him can be manipulated with diversions as simple as Desdemona's handkerchief, which he plants in Cassio's possession to bolster the suggestion of an affair. Iago has already gotten Cassio demoted by this point and taken over his job, and it doesn't help matters that Iago has convinced Cassio to enlist Desdemona to advocate on his behalf with Othello, who grows increasingly enraged by her entreaties.
And so poor Desdemona — as radiantly pure, beautiful and blonde as ever in Brookshire's portrayal — slides down the slippery slope that slimy Iago sets up. She's blindly devoted to Othello, unable to see that anyone could be plotting against her. But everyone's equally vision-impaired: Keegan's Cassio, so virile and handsome (almost ludicrously so, with gelled-looking hair that appears more formidable than his chain-mesh bodysuit); Karen Peakes's Emilia, so put-upon by Iago yet so unsuspecting until far too late; Louis Butelli's Roderigo, a devotee of Desdemona's used as a pawn by Iago and presented as an emasculated fool in baggy tights and a floppy codpiece (a perhaps too literal gesture by costume designer William Ivey Long).
Then there's Othello himself: the man who can command a Venetian army but has so little control over his own heart. And so little ability to question the domestic reality that's misrepresented to him by Iago. When he makes the climactic, murderous move against Desdemona, Odero's Othello isn't giving us a confident show of brute force; he's a broken-down man who looked for beauty in the world, claimed it, and lost it by his own frailty as much as by the conniving of an enemy in plain sight.