The federal government asked U.S. District Court for the District of Columbia Chief Judge Royce Lamberth today to stop a magistrate judge in the court from allowing former Lt. Dan Choi to proceed with a defense of selective or vindictive prosecution in his trial stemming from a 2010 arrest at the White House.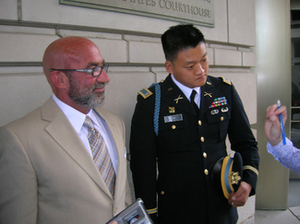 Lawyers representing the government and Choi appeared in federal court today before Lamberth to argue whether Lamberth should issue a writ of mandamus prohibiting Magistrate Judge John Facciola from allowing Choi's lawyers to pursue a possible defense of selective or vindictive prosecution on the charge he faces: failure to obey a lawful order by a police officer.
Choi was arrested in November 2010 after he and 12 others chained themselves to the White House fence while protesting the military's now-defunct "Don't Ask, Don't Tell" policy, which prevented gay and lesbian servicemembers from serving openly.
Assistant U.S. Attorney Stratton Strand argued that Facciola had erred in finding prima facie evidence that would allow Choi's lawyers, Robert Feldman and Norman Kent, to pursue a defense of selective or vindictive prosecution. Strand said that one of the reasons the decision was in error was because, since the trial already had begun, double jeopardy would prevent the government from re-trying Choi if the case were dismissed or if Facciola acquitted Choi prior to issuing a final verdict.
Strand also argued that, while he had no evidence of precedent, Lamberth had jurisdiction to issue the writ against Facciola due to the structure of the district and magistrates courts.
Feldman argued that evidence and testimony from the trial had revealed that the government specifically went after Choi, monitoring his actions, suggesting possible statutes under which they could prosecute him and following through by trying him in federal court for a violation similar to two prior incidents that were handled differently. Following those other incidents, Choi was charged in D.C. Superior Court, and the charges eventually were dropped.
When asked by Lamberth why he didn't file a defense of selective or vindictive prosecution beforehand, Feldman argued that Facciola had said he didn't need to do so and that subsequent evidence emerged from the trial that allowed Facciola, acting as both judge and jury, to consider constitutional issues and determine whether selective prosecution could be used as a possible defense.
Outside the court, Choi's lawyers expressed confidence that Lamberth would rule in their favor, thereby allowing the trial to continue under Facciola without specific instructions to disallow a defense of selective or vindictive prosecution. Feldman said he expected Lamberth to issue his decision within the next 10 days.
"We are totally confident that he will rule in Lt. Choi's favor," Feldman said.
If Lamberth rules in the government's favor and issues the writ, it means that Facciola will receive instructions not to allow Choi's lawyers to pursue selective prosecution as a defense. Such a ruling would prevent Choi's lawyers from being able to request more information, documents or official correspondence related to Choi's arrest and the decision to prosecute him in federal court to help prove a vindictive or selective prosecution claim.
If Lamberth rules not to limit Facciola by refusing to issue the writ, Choi's lawyers said that the trial can either move forward, Facciola can permit the government to dismiss the case against Choi, or Facciola can acquit Choi.
When asked what outcome he preferred once the trial returned to Facciola, Choi said he would prefer the trial move forward and that he be found not guilty, because he does not believe he violated any laws or lawful order. He also said he would like an apology for the government's decision to prosecute him.
"I think it's pretty clear that the government has something to hide," Choi said. "So whether we are allowed an acquittal based on selective prosecution or not, they've already shown their hand that there was selective prosecution."
Feldman said he was even more confident of the final outcome of the trial.
"As we've said from the beginning, Dan Choi is innocent," he said. "And Judge Facciola will agree. Of that, I'm more than confident. I'm going to say, for the record, it will happen."
Officials from the U.S. Attorneys Office at the hearing did not comment on the proceedings, and a spokesman later declined comment.
[Photo: Feldman (left) and Choi (Photo by John Riley.)]