Mark Morgan had a rough transition in 2001. First, he underwent major surgery in May that could have left him with a colostomy bag or some similar health burden. Dodging that bullet, however, he felt he had "a new lease on life." That included meeting a new guy.
"The week before 9/11, I moved to San Francisco for somebody," he remembers. "I wasn't picked up at the airport – or met anytime after that. I knew the relationship was doomed. I was stranded in San Francisco without any friends, anyone I knew. Then 9/11 happened. Feeling completely and totally isolated, I started to get online. I met someone who asked if I liked to 'party and play."'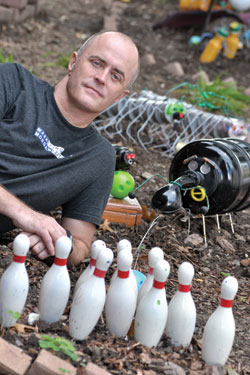 Mark Morgan
At the time, Morgan didn't know that was code for methamphetamine-fueled sex.
"Three days later, after sampling most of the party cocktail of drugs, I knew exactly what was meant and the beast was born."
The rough transition became a rough decade of Morgan dealing with addiction. Today, however, the beast has been slain. Morgan is in recovery, back in Washington, and turning from destructive to productive. It's a turn that's been aided by the Luther Place Memorial Church on Thomas Circle.
"I went to a new member orientation and the two pastors were excited because there was a gay couple there who were adopting a child," says Morgan, who was raised Southern Baptist. "That embodied what I was looking for in a church."
His timing was perfect as the church was about to launch its Junk Art Garden. The notion of taking what was once deemed disposable and reclaiming it as a personal expression had obvious appeal for Morgan. Last month, he erected his own display, "Recovered Recycled," of tennis-ball bumblebees, cat-food can "caterpillars" and other whimsical creatures that he saw in the discarded bits around him.
"The fact that I actually completed something makes me want to do more," he says. "Now I'm able to express my fears or whatever emotions I'm feeling. I can harness a creative outlet. I'm very eager to see what's next."
"Recovered Recycled" is on display through 2011 at the Junk Art Garden on 14th Street between N Street NW and Thomas Circle.