Following Frank Kameny's death last week at 86, the area's LGBT community was left to ponder the loss of a prominent figure in its history.
"I never thought that Dr. Kameny wouldn't be there," says Mark Meinke, founder of the Rainbow History Project, the caretaker organization of local LGBT history.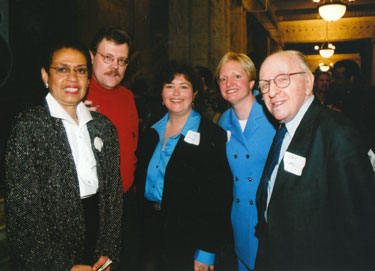 Frank Kameny (right)
Meinke, who successfully had Kameny's house at 5020 Cathedral Ave. NW named a D.C. historic site, has been trying to get the house further recognized as a national landmark in the National Register of Historic Places.
Kameny's role as a pivotal figure in the gay rights movement provided a tangible link to the history of the LGBT community, says Meinke. After being fired as an astronomer for the U.S. Army Map Service in 1957 because he was gay, Kameny became an ardent activist for equal treatment for gays and lesbians.
"Dr. Kameny was not someone who suffered fools gladly," Meinke says of Kameny's determination. "He was convinced in the absolute rightness of his cause and filled with an absolute determination to push that cause."
Meinke also points out that Kameny – who gained a national reputation both as an outspoken critic of anti-gay discrimination and as one of the co-founders of the Mattachine Society of Washington – played a significant role in David K. Johnson's book The Lavender Scare, which has been turned into a movie, also featuring Kameny.
"He died two days before he was scheduled to speak at an event for the Rainbow History Project about the Mattachine Society," Meinke notes. "So the movie is really the last live interview of Kameny regarding his work on behalf of the gay rights movement."
Local writer and gay rights activist Richard J. Rosendall first met Kameny 33 years ago when, as a Villanova student, he invited Kameny to speak at a debate on gay rights. Later, when Rosendall moved to Washington, he became involved in the Gay Activists Alliance – today the Gay and Lesbian Activists Alliance, which evolved from Kameny's unsuccessful, yet groundbreaking, 1971 run to represent D.C. in Congress.
Rosendall says Kameny served as a gay-rights role model for him by standing his ground and making careful, reasoned arguments for equal treatment for gays and lesbians based on the U.S. Constitution and the nation's founding principles.
"After he was fired in 1957, he treated the government firing him as a declaration of war," says Rosendall. "His attitude was one of patriotic indignation, that the country he fought for in World War II could do this to him.
"But also, Frank set a standard for thinking things through and making our case in a very smart way that was not just principled, but pragmatic."
Rosendall points out that Kameny was one of the few early activists to use his real name at a time when LGBT people were considered mentally ill and could easily lose their jobs or suffer other injustices if discovered to be homosexual. What made that more impressive, he adds, is that Kameny had no support behind him when he decided to dedicate his life to achieving equality for LGBT people.
"He wasn't intimidated by anyone," Rosendall says. "He was physically self-confident. He strolled into any room as if he owned it."
Rosendall credits Kameny with introducing a militancy and a populist tone to the gay rights movement that had previously been lacking in the early "homophile" organizations.
"It was quite bold for the time," says Rosendall. "Gay people were treated as security risks and could be driven out of their jobs, sometimes to suicide."
On a local level, Rosendall also credits Kameny with holding Washington's city officials and politicians to account. He offers the example of Kameny writing the bill to repeal the District's sodomy law, which passed the City Council in 1980, though vetoed by Congress.
But Kameny's persistence eventually won out, with sodomy being decriminalized again by the City Council in 1993 and fully repealed in 1995. Kameny also helped push for the elimination of funding for the Metropolitan Police Department's vice squad, which had a history of targeting and entrapping homosexual men.
It seems so many Washingtonians have a story or observation about Kameny to share.
"It is not possible to overstate the contribution that Frank made to human rights in America," says D.C. City Councilmember Jim Graham (D-Ward 1), who knew Kameny for 30 years. "I would not be where I am today without Frank's contribution to that struggle."
Graham, who worked as an aide in the U.S. Senate from 1975 to 1981, remembers it was common for gays such as Kameny to be fired from the federal work force, especially after President Dwight Eisenhower issued a 1953 executive order to fire federal employees for a number of perceived Cold War security risks, including "sexual perversion."
From his time in the Senate, Graham remembers former U.S. Sen. Sam Nunn (D-Ga.) firing two aides after he found out they were gay, a decision he says "spread like wildfire" among Senate staffers. As a result, he says, there was only one openly gay staffer in either house of Congress, who worked for Sen. Alan Cranston (D-Calif.).
Graham credits Kameny as possibly the most important figure in the fight to allow gays and lesbians to serve in government and obtain security clearances.
"It's hard to understand that you had a federal government where not only could you be fired for being gay, you couldn't be hired," says Graham. "Frank Kameny changed that."
Graham, who served for 15 years as the executive director of the District's Whitman-Walker Clinic, which specialized in treating gay and bisexual men with HIV/AIDS, grants that he and Kameny did not always agree on issues like blood donation, bathhouses and the gay sexual-liberation movement, particularly in the early days of the AIDS epidemic. They did, however, share a mutual respect.
"We would have vigorous discussions, often in loud tones," Graham remembers. "But he was also very helpful in those early days."
Graham also credits Kameny with providing the force and the "do it" attitude that the LGBT community needed to advance its causes, ranging from to the repeal of sodomy laws to marriage equality.
Many remember Kameny as a forceful personality with an in-your-face style of activism, who always spoke his mind and loved making people in power feel uncomfortable. But others recall a gentler, compassionate side Kameny showed in private.
Transgender activist Earline Budd says Kameny was one of the people who reached out to her when she was first discovering her identity. Years ago, as a teenager, Budd was kicked out her family's home because of that identity. That's when she found Kameny, who showed her compassion and tried to get her connected to a support network.
"I often called him my father, because he really was like a father figure to me," she says.
Though Kameny didn't work directly with the transgender community, necessarily, Budd says everything Kameny fought for has had an impact on the transgender community by raising issues of advocacy for LGBT rights as a whole.
"There are no words that can express the loss," says Budd. "We owe just a great amount of respect to Dr. Kameny and what he gave to us."
Bob Witeck, CEO of Witeck-Combs Communications, was 16 when he met Kameny. Trying to find out more about his budding gay identity, Witeck phoned the only gay resource he could find, the Mattachine Society of Washington. Kameny answered.
"Frank was the first person I ever talked to that I knew who was gay," says Witeck. "He gave me reassurance that everything was all right. He did that for a lot of people. It wasn't unusual, but it was moving to me."
Witeck says that as Kameny aged, those he had helped years earlier were able to help him as he struggled with old age and finances.
"He had no steady source of income," Witeck points out.
One way he helped Kameny was by working with Charles Francis. The two co-founded the Kameny Papers Project and pushed for Kameny's papers and memorabilia from his early days of activism to be housed in the Library of Congress.
"We wanted to preserve his legacy and help him personally," Witeck says. "That signaled the first time his work was respected."
Prior to that project, Francis knew Kameny socially. But he really got involved in the effort to have Kameny's work accepted by the Library of Congress in 2005. That's when he saw what was in the attic of the Cathedral Avenue home where Kameny had lived since 1962.
"He was a complete pack rat," says Francis. "He had a treasure trove of documents, campaign posters, papers, old picket signs from his demonstration in front of the White House.
"He had saved everything. It was a time machine of gay history dating back to 1957."
After making the discovery, Francis took everything out of the attic, and he and Witeck arranged to donate some of the materials to the Smithsonian's National Museum of American History. The two also began pushing the Library of Congress to accept more than 70,000 individual photos, letters, documents and legal files belonging to Kameny.
Among those files is a U.S. Civil Service Organization document explaining that the government had to keep a ban on gay employees because of the "revulsion" fellow workers would have if forced to work with "known perverts." The collection also includes Kameny's 1961 petition for a writ of certiorari to the U.S. Supreme Court to sue to get his mapping service job back, which the court declined to hear.
"It's the finest gay archives extant," Francis says of the Kameny collection. "It's all there. This is the documentation of Frank Kameny's legacy."
Yet for all his contributions to the gay rights movement, he didn't flaunt his achievements for self-promotion, according to those who remember him.
Transgender activist Jeri Hughes remembers not an in-your-face activist, but the sweet elderly man at GLAA meetings.
"I had no idea when I first met him how important he was," she says. "He seemed to have been ignored, so I tried to take care of him."
Of course, she later learned who Kameny was and of his impact on the lives of LGBT people everywhere.
"He was before his time," says Hughes. "He was amazing."