There are plenty of films that want to be Weekend. They trickle into multiplexes around the country a few times a year, feeding into a niche brand of indie romance that's fueled more by bangs and bashfulness than intimacy. They're easy enough to spot, with their manic pixie dream girls and bruised soundtracks and artfully tousled wardrobes. Weekend is better than the lot of them — it just happens to be about two men.
Set in Nottingham, England, it follows two men across an autumn weekend as they feel out a new and intimate relationship. They meet during a night out at a strobe-lit club, develop an unexpected connection the morning after that's neither defined nor immediately addressed, then struggle to figure out what to do next. It's a fling that reaches for more, jettisoning a hook-up mentality for that beautiful place of mind where you can't decide if you want to jump into bed with someone or hold them and kiss them and ignore everything else in the world. It's the story of how a lot of us — gay or straight — meet our matches.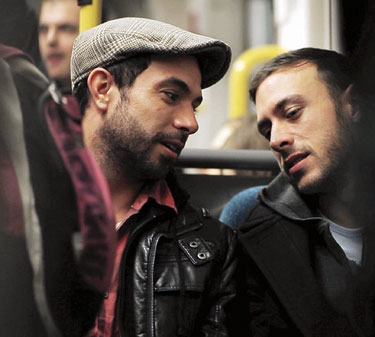 Weekend: Tom Cullen and Chris New
(Photo by Quinford Scout)
That's not to claim that Weekend does anything profoundly new within the genre. Director Andrew Haigh simply handles romantic tropes with such a deft touch, it's hard to do much but smile when they peek out as he dawdles along. Even the characters are riffs on traditional indie romance figures: Russell (Tom Cullen) is an awkward, insecure introvert, while Glen (Chris New) is a bombastic artist, confident and viciously protective of his right to share the sordid details of gay sexuality with others. Yet step-in-step with their relationship, Weekend goes on a looping exploration of how very complex these two characters are.
They spend hours together, often talking. They talk about their childhoods. They talk about drugs, and use a lot of them. They talk about why gay men act chaste in public — why some, like Russell, don't feel comfortable holding hands, kissing, or even talking about sex outside of the bedroom. Glen digs into Russell for not coming out to his friends, accusing him of living a semi-closeted life because he's ashamed of his identity. Russell responds with probing questions about Glen's mistrust of relationships and refusal to date. And yes, they strip down and get physical from time to time, as well.
"While you're projecting who you want to be, this gap opens up between who you want to be and who you really are," Glen says in one scene, striking Russell's emotional struggles directly while glancing against his own. "And in that gap, it shows you what's stopping you from becoming who you really want to be."
WEEKEND





Starring Tom Cullen, Chris New
Not Rated
96 Minutes
Opens Oct. 7
Landmark
E Street Cinema
That "gap" is what ultimately drives Weekend. Haigh, an editing veteran with Hollywood blockbusters such as Gladiator and Black Hawk Down to his name, builds an intimacy around Russell and Glen that's grounded in the world around them. We invade it, watching through a camera lens that darts behind corners, lingers in an open space, and fluidly moves within a crowd. It seems contradictory, but Haigh and cinematographer Urzula Pontikos's methods are at times both sleek and naturalistic, with the slightest hint of a voyeur's touch. The result is an unhurried, gorgeous visual style that bolsters both plot and purpose. Russell and Glen's romance may not necessarily last forever, but Weekend stretches those minutes and hours they do spend together into something slow and wonderful.
Make no mistake: This is not a "gay film." It's a great love story that deserves better than a niche label and a correspondingly niche audience. It's bittersweet and authentic in a way that aches in its frankness. No, this is not a gay film. It's a great film about gay men.