A filter used by Montgomery County to block inappropriate content on county employees' computers has been routinely blocking mainstream LGBT sites due to what the filter is labeling "pornography" and "nudity," a county employee tells Metro Weekly.
Jedediah Millard, an employee of Montgomery County Councilwoman Nancy Floreen, says he was searching the Internet in March 2011 for sources detailing a county resolution regarding marriage equality. When Millard clicked on a link to go to Metro Weekly, the browser blocked the site and listed a description reading, "Website contains prohibited Pornography/Nudity content."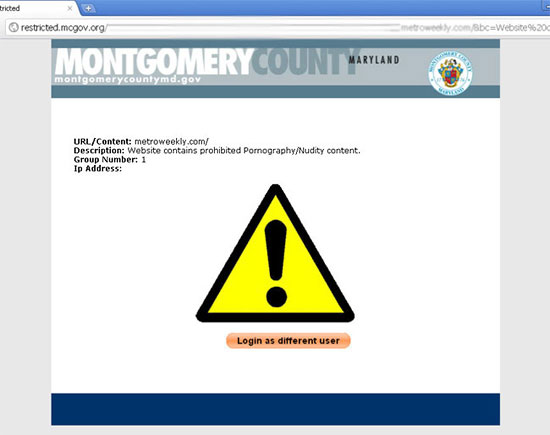 Screen capture sent to marylandjuice.com
After some additional searching, Millard says he realized that many LGBT-related sites that are neither pornographic or show nudity had been blocked, so he notified a technician from the county's Office of Technology Services.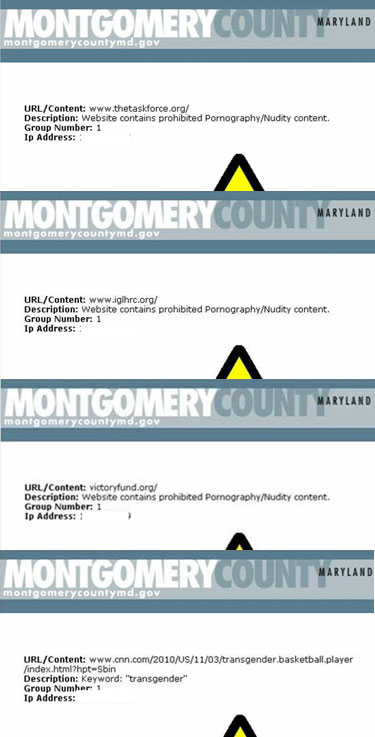 Afterward, some of the sites Millard had mentioned were unblocked. Millard did not specifically mention Metro Weekly in the list of blocked sites, and when he tried to access the site recently he found it was still blocked. Other blocked sites include those for the Gay and Lesbian Task Force and the International Gay and Lesbian Human Rights Commission, as well as any site containing the word "transgender."
"It really seems to be a system-wide problem," says Millard, who this month reported the flawed filter to the blog "Maryland Juice," which has previously covered overreaching county Web censorship.
In an Oct. 14 email to Metro Weekly, Keith Young, a security officer from the Montgomery County Office of Technology Services, said the county uses third-party software to categorize and block websites. Based on a 2002 policy, the county decided to block access to certain sites, including dating sites, pornographic sites and online gambling sites. Those terms were defined by the software vendor, which, according to Young, erroneously categorized Metro Weekly's website as an adult site.
In the email, Young said the county has responded by updating filters to allow access to Metro Weekly and notifying the software vendor of the error. In his initial response, Young did not name the vendor in question. A follow-up query to identify the vendor was not immediately answered.
As of 5 p.m., Oct. 14, Millard said sites for the Task Force and IGLHRC, as well as any containing the word "transgender," remained blocked on county computers.