The 2011 installment of Reel Affirmations, the 20th anniversary of the international LGBT film festival, is many things. It's a showcase of LGBT culture. It's an opportunity to revel in D.C.'s community and dynamism. And it's a labor of love – one that might have just as easily disappeared were it not for those who harbor that love.
"Larry and I, last year, we were at a point where we could've thrown our hands up," Lisa King says, referring to Larry Guillemette, the festival chair and past president of One In Ten, the organization responsible for the film festival that skipped its 2010 installment. King is the current president.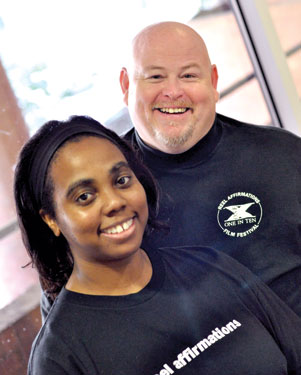 Lisa King and Larry Guillemette
Serious issues of community interest, finance and logistics threatened the festival's future. A decision had to made.
"We came to the conclusion that this is bigger than us," says King. "We can't let one of the top-five LGBT film festivals in the country go away. We had to figure out how to make it work."
That means doing without a paid executive director, searching the city for new theaters, engaging the city's LGBT nightlife venues, finding films that festivalgoers will not likely find elsewhere – including online – anytime soon, and a countless number of other tweaks and additions.
"We're thrilled to death that we're back. It was a struggle, but we're back," says Guillemette, sharing his excitement about the new "International Embassy Screening Series" that this year will partner with the embassies of France and Israel, as well as the Goethe-Institut German cultural center.
In that the festival is back as a living, breathing entity, it's also prone to growing pains. Thankfully, this year they're minor: Die Standing Up had to be pulled from the festival so that it could enter a competition elsewhere; Gigola, originally an Oct. 22 show at Lisner Auditorium is now an Oct. 15 show at the Atlas Performing Arts Center; and the much-anticipated Pariah has moved from Oct. 15 at Atlas to Oct. 22 at Lisner.
It's nothing the volunteers behind Reel Affirmations can't handle.
"I like that I'm part of a group that is keeping this institution in D.C. alive," says King, adding thanks for all the volunteers, community members and sponsors who feel similarly, such as Guillemette.
"We could not have come back without the support of many, many people in the community who have reached out to us," he says. "We could not do this without the volunteers, the community we are a part of. On Oct. 22, I can go to sleep knowing we got to reach the 20th anniversary milestone, and that we'll move forward to the 21st and beyond."
Check out Metro Weekly's Film Reviews from the 2011 Reel Affirmations Film Festival.