Sitting on its prominent 17th Street corner, the expansive windows of JR.'s look out on a community that its helped become a little more "out" over the 25 years since the popular and high-profile bar first opened.
The two-story space – frequently packed from front door to upper balcony – has had a hand in making some of D.C.'s gay denizens just a little bit gayer, too. It certainly did for JR.'s manager David Perruzza, whose only musical before moving to D.C. had been a viewing of Evita – the Madonna version, not a stage one.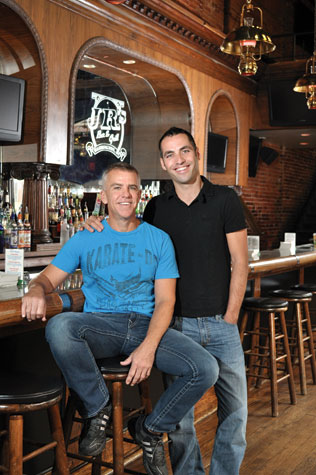 Eric Little and Dave Perruzza at JR.'s
(Photo by Todd Franson)
Having worked at JR.'s popular Monday Night Showtunes pretty much every week for the past 14 years, he's become quite the convert.
"I'm a total theater queen now," the 36-year-old laughs. "It's the gayest thing about me. I see every show [that comes through town]."
Perruzza moved to D.C. in 1997 from Hawaii, where he had been stationed in the Navy. "I was supposed to come here and get a job with the Pentagon, because I had a clearance," he says. Instead, he started working JR.'s coat check right away. The always-on-your-feet job suited Perruzza's genial, outgoing personality.
"I'm not a desk job kind-of guy. I'm too hyper," he says. "That's why I stay so skinny. I'm always bouncing around." Within a year, Perruzza became a bartender and a bar manager. "I loved it so much, I just stayed. I work with great people — we're just like a family."
The head of that family would be owner Eric Little, who's worked at JR.'s since it opened in September 1986. Then a travel agent, Little was also working at the former Mr. P's when he heard that the owners of the original JR.'s in Dallas were going to open a branch in D.C.
He pounced.
"I would always make it a point to go the JR.'s in Dallas," says Little, who was frequently in Texas working with American Airlines. "It's a nice bar, with big windows and bright lights." Little, who grew up outside of Pittsburgh, would eventually become the D.C. location's general manager. He bought the bar in 1996 after the JR.'s franchise founder died.
A few years later, the purchase and renovation of the Cobalt nightclub and restaurant complex on the other end of the street made Little's businesses the anchors at the north and south ends of the bustling 17th Street corridor.
With its can't-be-missed windows, prominent patio awning and special nights, JR.'s has enjoyed 25 years of unwavering popularity in D.C.'s gay community, in part because it hasn't been afraid of being so outwardly gay. Before JR.'s, gay bars in D.C. were generally unmarked and tried to keep low profiles, often tucked away in alleys or in derelict parts of town.
Another key to its longevity is no doubt due to a friendly work environment and obviously good staff rapport, which rubs off on patrons. And that starts at the top: Little and Perruzza have complementary personalities. In conversation they can finish each other's sentences as if they were more than just longtime business partners. (They're not.) So comfortable is owner Little in the relationship, he handed over most of the business's affairs to general manager Perruzza years ago. In the main, Perruzza also serves as the bar's public face.
A SPRINT TO SUCCESS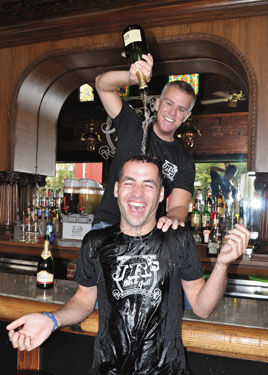 IT WASN'T LONG after JR.'s opened that 17th Street saw the first – though nascent – running of the signature Halloween High Heel Race. Dreamed up by the bar's employees, including Little, it started as a dozen or so friends seeing who could run the fastest down the sidewalk from JR.'s to the upstairs bar at Annie's Paramount Steakhouse, then do a shot and run back to JR.'s. (Fun fact: Annie's original location was JR.'s current space.)
The race caught on in a big way and within just a few years started drawing thousands of spectators to 17th Street. The city police began blocking off the street for the stampede as well as the spectacle that precedes it.
While he had a hand in the creation of it, Little has never put his actual foot into the race. "I've always been just too busy that night [working the bar or the race]," he says. As for Perruzza, he's only run it once, in 1998. He remembers it like it was yesterday.
"I got off my shift at 8 o'clock," he recalls. "I felt like Cher in the [JR.'s] backroom, because somebody was putting a wig on me, somebody was putting a dress on me, somebody was putting heels on me."
"Eric had warned me, you're probably going to sprain your ankle or something," Perruzza continues. "Of course, somebody fell in front of me and all I could think about while I was jumping over him in the air was, 'Shit, I'm going to sprain my ankle and he's going to be right.' But I landed on my toes and I kept running like a champ."
Perruzza may not have won the race, but he did walk off with the event's organizing duties. "After that year I was pretty much in charge of it." Perruzza is quick to point out the race, though it may have started and still runs with support from JR.'s, is "a community event." In fact, the Historic Dupont Circle Main Streets organization, on whose board Perruzza sits, runs it now. This year's High Heel Race is set for Tuesday, Oct. 25, from 7 to 9 p.m. It will be a family affair for Perruzza, whose mother and cousins plan to volunteer that evening during their visit from New York.
BACK TO THE FUTURE
A FEW YEARS AFTER Little bought JR.'s, he also bought the retail space next to the bar with hopes of expanding, a development that would have more than doubled the size of the bar. But stiff opposition from a small but terribly influential local group, the Dupont Circle Citizens Association, put a damper on that effort. Gaining the city's approval was a bureaucratic exercise that cost the bar a couple hundred thousand dollars and "wasted almost our entire budget [to renovate]," Little says. They also haven't been able to buy or secure a longer lease for the building that now houses JR.'s, something they had been promised beforehand. Finally, there are the costs and complications of connecting the two buildings. "It's a big challenge to connect the two existing buildings, because they're so old," says Little. "It [requires] a 100-percent gut job." For now, the second building houses Little's office.
Unless they figure out something soon, though, JR.'s may very well move.
"It's a goal for us to expand and to grow," says Little, "and if we can't do it in our existing location, we have decided that we will move.
"We'd love to stay on 17th Street," he continues. "But we're looking around at other options. There are so many great neighborhoods in the city now."
Perruzza agrees, noting the growing number of neighborhoods where the gay community goes out. "It used to be that 17th was it [the main gay street], but that's not the case anymore."
Little says a move or expansion could take as little as one year or as long as an entire decade to put in place. For his part, Perruzza is hopeful it will only take a few years.
One way or another, JR.'s plans to thrive as a part of the city's gay community well into the future.
"I don't know life in D.C. without JR.'s," says Perruzza. "Even when I visited D.C. before I moved I used to come to JR.'s." Whatever the future holds for JR.'s, count on Perruzza being there. He's devoted to the business "for the long haul."
SINGULAR SENSATIONS
BOTH LITTLE AND PERRUZZA chalk up their success and longevity in the bar business to the fact that they both drink in moderation and don't do drugs. "Some people [in the bar business] get involved in drugs and drink too much, and some people just see what it does to other people, which is what happened to me," Perruzza says. "I've never actually touched drugs at all. With me, I have two drinks and I'm just as happy as everybody else."
Perruzza likes to sip citrus-flavored vodka mixed with Sprite, while Little prefers Michelob Ultra. But among the JR.'s clientele? The most popular drink "by far," says Perruzza, is the concoction of vodka, club soda and a splash of cranberry juice known as a Rose Kennedy. Or, as some uncouth regulars may call it, "Dead John's Dead Grandmother."
While JR.'s has long drawn crowds of homegrown regulars, it's also a magnet for out-of-town visitors, especially those from Dallas, Houston or Denver, each with JR.'s bars of their own. "Even though they're all owned by different people [now], it's sort of like a chain gay bar," says Perruzza. "We do have a lot of people taking pictures with the JR.'s logo and sending it to their friends [back home]."
But closer to home is the bevy of local regulars who Perruzza calls "amazing people." And they continue to turn out for JR.'s signature nights.
Perruzza calls Showtunes Mondays "one of our busiest nights, and it's actually our youngest night, as far as guys go. We have a contingent of young guys who you'd never know liked showtunes."
Part of the Monday night appeal is the promotions that JR.'s lines up with local theater companies, as well as the fact that performers often appear at the bar. Perruzza recalls that last year a couple members of the Broadway cast of Hairspray stopped by Showtunes Monday while in town for a performance at the White House. "I recognized Marrisa Jaret Winokur," he says, "so I played her clip from the Tony Awards. She said, 'Oh my God, that's me!' And I said, 'I know!"' Winokur then asked if she could sing, so the VJ cued up the movie so she could sing over select tunes.
Then there's Sunday night – the longest running weekly event at the bar, where cheap vodka drinks and domestic beer have packed in crowds year after year. While the prices have gone up since the early days (75-cent Cape Cods are a distant memory), in 2011 a $2 Skyy vodka drink is a deal to make even the stingiest bar hopper sing Sunday praises.
There have been some changes to the JR.'s schedule over the years. Some didn't catch on – a country-western night lacked twang because there's no way to do a two-step in a tavern. But others, including the annual Easter Bonnet Contest, have gone on to become community favorites. That's why Little and Perruzza continue to think of new ways to treat the community with special events and themes.
"My new favorite party is the Red Head Party," says Perruzza, intended to attract men with red or strawberry-blond hair to the bar one Thursday a month. "I love redheads!"
"My mother's [been] trying to set me up with a nice Italian boy in New York," he laughs. Of course, in addition to being in New York, the boy is not a red head. "Mom's just going to have to deal with a nice Irish boy."
And presumably one who loves theater, too.
JR.'s is located at 1519 17th St. NW. Call 202-328-0900 or visit myjrsdc.com.