"I think Paula was very similar in public and private, very passionate about her views, very funny, and at times very playful – especially with our children," Suzanne Goldberg says, talking on Oct. 18 about Paula Ettelbrick, her former partner and one of the leading legal minds in the modern movement for equal rights for LGBT people until her death on Oct. 7 at age 56.
"Every time we'd drive by Shea Stadium," Goldberg says of the New York Mets' home ballpark through 2008, "she would tell the kids that was where the Cubs played when they came to town."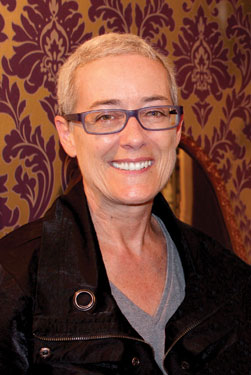 Paula Ettelbrick
Laughing, she adds, "And I'm a Mets fan."
Ettelbrick had been raising two children – Adam Ettelbrick, 14, and Julia Ettelbrick, 12 – with Goldberg. In Ettelbrick's obituary, which ran Oct. 10, The New York Times wrote about her children; Goldberg; Ettelbrick's partner, Marianne Haggerty; Goldberg's partner, Mary Lou Kelley; and the fact that "[t]he four women, and the children, would spend time together in the city and vacation together in Provincetown, Mass."
Of the author of the obituary and the unconventional family in which they found themselves, Goldberg says, "He really captured it."
Ettelbrick's family life, in fact, captured perfectly the spirit that animated the work of her life.
Talking with Metro Weekly in May, Ettelbrick laid out as clear a case as ever for that work, which focused on seeking recognition of and protection for many types of families and relationships.
"It's not at all that I'm not sympathetic to the desire to marry and the desire to fit into mainstream society," she said, opening up a wide-ranging discussion about marriage, the Defense of Marriage Act, civil unions and more on a Sunday morning in May just a few hours after she returned to New York from a trip to London. "It's just that I feel very firmly that we need to continue the broader recognition – that we should insist on marriage and non-marriage, in a sense, family relationships."
After graduating from law school in 1984, Ettelbrick soon found her way to Lambda Legal, where she became its first staff attorney and, soon thereafter, its legal director in 1988. Focusing on that "broader recognition" put her at odds with others in the movement, including some of her colleagues at Lambda Legal, who were beginning to push for marriage equality as a key, if not the key, goal for same-sex couples seeking recognition of their relationships.
"I think it's absolutely absurd that same-sex couples are denied marriage," Ettelbrick said in May. "But, for me, we had a moment years ago – and still do – to nonetheless reshape the way we look at family structures in society so that they're less harsh, so that they're a little more just, so that the people who live together for 30 years and take care of one another have something – there's some merit that's recognized to that. Because, in the end, that's what we want."
After leaving Lambda Legal in 1993, Ettelbrick went on to a series of positions throughout the LGBT movement, including six years at the helm of the International Gay and Lesbian Human Rights Commission (IGLHRC) ending in 2009.
"She loved all her jobs," Goldberg says. "She loved the national focus of Lambda, the state political focus of the [Empire State] Pride Agenda, the global focus of IGLHRC, the D.C. advocacy/health focus at [National Center for Lesbian Rights], the policy focus at the Task Force Policy Institute, the community focus at Stonewall [Community Foundation]. … I think she gave everything she could to each of the jobs she had, to each of the organizations where she worked.
"And, she loved to talk with people about ideas, and about changing the world."
So, in addition to everything else, she taught. In doing so, Ettelbrick said that she found a connection.
"I'm 55. … If you get to people in their 40s and even late 30s, they're really on the marriage bandwagon," she said. "But I hear a really different perspective from young people, who really are very interested. And I teach. I teach at NYU Law School, I teach at Barnard College in the Women's Studies Program. … I am really intrigued by how much younger people really do connect with the injustice of not recognizing a broader kind of relationship."
Talking about the argument for broader recognition, Ettelbrick could be blunt — calling the argument that domestic partnerships constitute second-class citizenship "stupid" and "not helpful" — but also had a basis for why she thought that, telling Metro Weekly that broader relationship recognition "doesn't have to take away from the equality arguments, it just has to allow us to look at … the power that we as outsiders can have in changing society."
"The equality argument is obviously a strong constitutional and legal argument, but that doesn't answer the full question," she said. "Sometimes, when you're on the outside looking in, that's when you have to make the hard decision about whether we're going to go after social justice or whether we're going to just do the Band-Aid approach that allows us to have the 'in' – but leaving the basic structure unreformed. And, I'm a reformist."
It is doubtful that any discussion or analysis could be as powerful a statement of Ettelbrick's beliefs as her life itself. As Goldberg says of their family, "I think that we were able to create a family – and continue a family – bound by love rather than the law. And bound by love rather than convention."