A longstanding Halloween season celebration is celebrating its 25th anniversary, and one of its chief organizers is calling it quits after this year's event.
The 17th Street High Heel Drag Race – begun in 1986 and happening annually the Tuesday before Halloween – has participants dress in costumes and high heels at least 2 inches in height, and race down 17th Street NW between R and Church Streets. The event draws thousands of people each year with throngs parading along 17th street for hours prior to the official start, 9 p.m.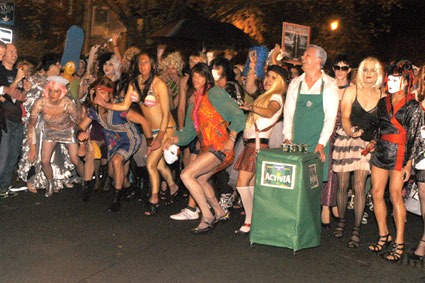 David Perruzza, general manager of JR.'s Bar & Grill, who oversees the High Heel Race and organizes hundreds of volunteers to help carry out the event and clean up afterward, said the 25th anniversary is a big milestone.
"I think it's a testament to the lasting nature of the race," he says. "We've never had a bad event. It's probably the only event in the city they can say that about."
Perruzza says the presence of Mayor Vince Gray, who will serve as grand marshal of the event on Tuesday, Oct. 25, along with Councilmember Jack Evans (D-Ward 2) and local drag personalities Lena Lett and Binaca, should mean the event won't encounter any setbacks.
Perruzza says a new addition for 2011 is that Historic Dupont Circle Main Streets will be hosting a food truck at 17th and O Streets NW. A change for 2012, he adds, is his race retirement and handing the reins to the Main Streets organization.
"I get a little more gray hair and break out in acne every year from the stress," he says. "Actually, I joke and I kid. It is a fun event – it's just too big for one person to handle."
Register to volunteer for D.C.'s 25th Annual High Heel Race at JR.'s Bar & Grill, 1519 17th St. NW, by 6:30 p.m., Tuesday, Oct. 25.
Here's Metro Weekly's video from the 2010 High Heel Race:
UPDATE: Click here for Metro Weekly's Scene pictures of all the wonderfully costumed participants.