Women's professional tennis has been a hotbed for social change, from the hear-us-roar launch of the women's pro tour in the 1970s to the emergence of openly lesbian tennis stars. Decades later, Martina Navratilova is a beloved figure and the U.S. Tennis Association renamed its flagship New York facility the Billie Jean King National Tennis Center.
But as Renée reminds us, not every story of change had such a fairy-tale ending.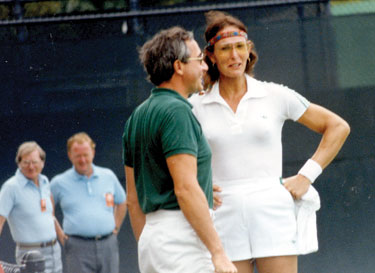 Renee Richards
(Photo by ESPN)
Dr. Renée Richards became an overnight national sensation when she became the first transgender woman to attempt to play professional tennis. Formerly Richard Raskind — a prep school and Ivy League sports star on a fast-track career as an eye surgeon — Richards had left behind her East Coast life after transitioning for a new start in California. But her bid to play the U.S. Open thrust her into the harsh national spotlight.
Documentarian Eric Drath traces Richards's journey through archival footage and interviews, illustrating just how groundbreaking Richards was, and how much dignity she kept in the face of a barrage of humiliations and hatreds. A clip of Bob Hope and Johnny Carson trading quips recalls how the nation attempted to reduce Richards to a freakish punch line.
RENEE




ESPN
Check cable provider
for listings
Also on iTunes
And at amazon.com
Drath's interviews with Richards, now living a quieter life in upstate New York, present a woman definitely scarred from the experience of being a groundbreaker, simultaneously proud of what she accomplished, but agonized at the idea that her choices caused her son pain. It's difficult to watch her sister refuse to acknowledge her as a woman — "He's my brother, if he was my sister, I'd say she" — and contributes to the melancholy that pervades the film.
Some of the tennis world that rejected Richards now sees things differently. John McEnroe, recalling how his thoughts changed after getting an idea of what she endured, says, "You realize there's a human being on the other end." And for all her mistakes and successes, flaws and talents, that's the core of Renée, the story of a human being who took a stand.