"Oh, I don't know if this is something my parents would want to come see me in," Eric Van Tielen remembers thinking when he auditioned for a lead role in Broadway's Book of Mormon. The gay Van Tielen — who grew up Mormon in Salt Lake City — says his parents are "still practicing Mormons [who] have found a way to reconcile their individual faith with my lifestyle." But Book of Mormon may have been too much.
In the end, Van Tielen didn't get the part. He instead joined the cast of the touring production of Les Misérables, now at the Kennedy Center. A member of the ensemble, Van Tielen plays the student revolutionary Combeferre.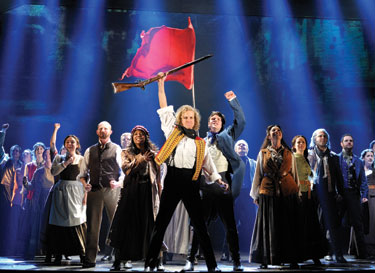 Les Miserables 25th Anniversary
(Photo by Deenvan Meer)
Now, Van Tielen has organized a concert at Town Danceboutique featuring about 20 Les Misérables cast members and benefiting Broadway Cares/Equity Fights AIDS (BC/EFA).
"They're all big, bold, show-stopping numbers," Van Tielen says of the concert, set for Monday, Oct. 24. "We didn't want people to sit down and listen to ballad after ballad, or something obscure, something they don't know." That means nothing from The Book of Mormon — too soon — but Wicked, Chicago and of course Les Misérables are all represented. Van Tielen will perform a trio from Ragtime.
He also promises "cute guys wearing very little," including the show's production stage manager and a former DC Cowboy. "It's definitely gay-oriented, yes," laughs Van Tielen, who will remain fully clothed. "I needed to give myself a few more months to get ready [to strip]."
"Every dollar that we make goes directly to BC/EFA," Van Tielen says. "All expenses are coming out of our pocket. We're just really, really excited to share our talents."'
"Signature Songs: An Evening of Broadway Showstoppers" is Monday, Oct. 24, at 8 p.m., at Town Danceboutique, 2009 8th NW. Tickets are $15. Visit 'event's Facebook page at on.fb.me/LMsignature for more information.'