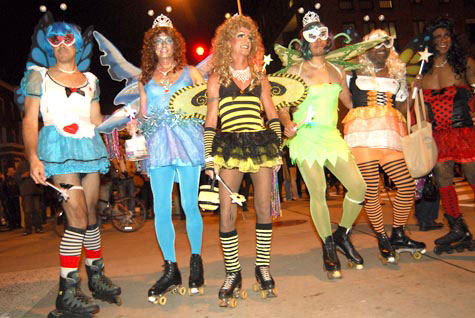 Not everyone likes to dress up for Halloween. Some people dress up enough already the rest of the year. But you certainly get more chances for treats — maybe even more tricks — if you do dress up. Practically every gay bar in the area has some type of a prized costume contest, most falling on Saturday, Oct. 29. Some have two, or even more — but very few offer anything on Halloween itself, since it falls on a Monday.
This year, Freddie's Beach Bar offers four nights of contests. And they have several great costume contest ideas. Friday, Oct. 28, the Alexandria venue offers $100 to the person dressed as the Best Dead Celebrity, to match the night's karaoke-based theme, "Disco for the Dead." Saturday, Oct. 29, it's $100 each for Best Costume and Sexiest Costume — heck, why not try for a twofer? Sunday, Oct. 30, it's $100 for Best Lady Gaga impersonator, as part of that evening's drag show. And on Monday, Oct. 31, Best Costume winner gets $100, while second place gets $50 and third place earns brunch for two.
On Friday, Oct. 28, the Ziegfeld's/Secrets complex reprises its Blacklight Party with DJ Steve Henderson, this year adding a contest, hosted by La Troya Nichole, for the best "black light or glow in the dark presentation or costume." First place earns $300, second gets $150 and third, $50. Downstairs, DJ Joey-O spins while the top three winners in Ziegfeld's "From Broadway To Hollywood" character contest earn $300, $150 and $50, respectively. And anyone can perform onstage for the club's annual "It's Your Show!" event.
Town Danceboutique ties for the venue offering the area's largest prize — $1,000 for best costume on Saturday, Oct. 29, when DJs Ed Bailey upstairs and BacK2bACk downstairs turn the whole venue into a Ghostown. There's also a Halloween Drag Show at 10:30 p.m. Cover is $15.
The other $1,000-best-costume venue is Cobalt, which offers a Raw party on Saturday, Oct. 2, with DJs Shea Van Horn and Bill Todd upstairs and Keenan Orr on the 30 Degrees level. Please note, the Raw go-go dancers won't be wearing much in the way of costumes. Cover is $10.
Tattoo Bar offers a special Saturday edition of its normally Wednesday night Retro.Fixé party, and will award over $1,000 in cash and prizes to costume winners in various categories, from the scary to the sexy. Cover is $10.
DJ India offers a ladies party at Dupont's Bistro Bistro Saturday, Oct. 29, when they'll have a special drink called "Witches Brew" and offer $100 for best costume. India will spin with DJ Mane. Cover is $10 before midnight or $15 after.
Drag queen Gladys Kravitz hosts a $200 Best Costume contest at Omega on Saturday, Oct. 29, at a party with DJ Tre. On Monday, Oct. 31, the bar in the alley off P Street offers $100 for Best Costume during its Rouge drag party with DJ Frenchie, with a $5 cover.
JR.'s throws a $250 costume contest on Saturday, and then on Halloween Monday offers a special Burlesque edition of Showtunes with DVD giveways and "dial for dollars." That definitely sounds frightful.
Nellie's Sports Bar will hold a costume contest on Monday, Oct. 31 worth $250 in cash for first, a $100 Nellie's tab for second and $50 dinner at Cubano's for third.
The Green Lantern offers $100 in cash and a $100 bar tab to first place in its costume contest Saturday, followed by half that to second place and half that again to third. But most patrons will strip down instead for the regular Underwear Party upstairs. On Friday, Oct. 28, the Lantern offers its seventh annual employee drag extravaganza, promising some of the "campiest and scariest Halloween drag in the city," plus an auction to benefit The Center.
The DC Eagle hosts its annual Leather Sabbat on Saturday, a night for ghosts and ghouls and fans of several leather clubs to raise money and compete for a costume contest with a cash prize. Also on Saturday, the Latin party Fuego follows its 2010 Avatar party with an even better True Blood-themed Halloween costume contest and party with DJ Flaco.
The winner of Remington's costume contest on Saturday earns $250 in cash and a $100 bar tab. A $5 cover gets you a country and western dance party with DJ Chris.
Phase 1 hosts a Halloween edition of the drag-king DC Gurly Show Friday, Oct. 28, and then the "ThrillHer: Women's Halloween Party" Saturday, complete with a $300 costume contest. Cover is $10. Meanwhile, Northeast D.C.'s lesbian-owned Lace Lounge offers an "If Only For A Night: A Mature Costume Party" for the LGBT community, complete with a Sexy Mature Mini Show. Cover is $10 with costume, or $12 without.
If you'd like to get away from the D.C. Halloween hubbub, you can take refuge Baltimore's Club Hippo, which has upped the haul its Best Overall Costume winner earns Monday, Oct. 31, from last year's $500 to $750, as well as offering a new $250 prize for Funniest costume to match the $250 prizes for Best Look-A-Like and for Best Group. Cover is $10 for the weeknight party featuring the venue's great resident DJ Kuhmeleon. But wait, there's more: The Hippo also offers a "Dirty Vampire Dance Party" Saturday, Oct. 29, with DJ Jason Royce. No costume contest that night, though those in costume don't have to pay the $6 cover.
The Lodge Lounge + Dance Club in Boonsboro, Md., hosts a "Tricks and Treats Halloween Party" with DJ Ryan W on Saturday, and will also hold a costume contest garnering $400 for first place, $150 for second, and a one-year door pass for third. Cover is $5 before 11 p.m., or $8 after. And in York, Pa., Club XS hosts three nights of costume contests: A college-night contest, with $500 in prizes, Thursday, Oct. 27; another one Friday, Oct. 28, as part of the "Tales from the Bassbin 3" party; and Saturday's blowout costume contest with $1,500 in prizes and a party with DJ Seth Gold, all for a $5 cover.