Tom Nichols is moving to the next stage, literally and figuratively. After years as CFO of the World Wildlife Fund and African Wildlife Foundation, he stepped out of those roles nearly two years ago to commit to being a full-time musician. In years past, he's also performed in a variety of venues, singing with the Gay Men's Chorus of Washington, D.C., or playing guitar with any number of the performers in his musical community. Or maybe he was at home in Falls Church, composing with his musician partner, Dan Chadburn.
With an ongoing eye on philanthropy and a new commitment to music, Nichols's next stage is Trust, his first solo CD, which he'll release at a Nov. 1 concert benefiting the It Gets Better Project.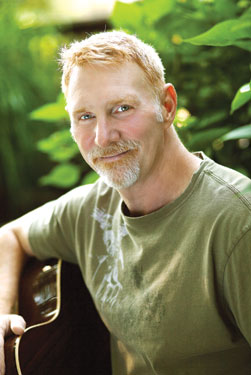 Tom Nichols
(Photo by Helen Hausman)
Sadly, his commitment to It Gets Better, an organization working to prevent bullying and youth suicide, and affirm LGBT young people, was influenced by a tragedy.
"Families have tragedies," says Nichols, remembering a bullied relative who eventually overdosed. "My tragedy is that I lost a nephew."
In the lyrics of the CD's title track, it's easy to think of young people in need of support.
"I will hold you close and shelter you from your fear," he sings tenderly.
Aside from the benefit concert, Nichols has also served as a consultant/producer in helping Choice Hotels craft an online platform for helping a variety of causes. And now he's a part of that charitable outreach offering not only a free download of the song "Trust," but also $1 to the It Gets Better Project for every download at choicehotelsmusic.com.
Entering this new stage at 50, Nichols says he's never been busier or happier. But is that thanks to the music or the benevolence? Seems it's a bit of both.
"I have this basic philosophy that we're all here to help each other be the people we're supposed to be, the best that we can be. Music is about helping people discover why they're here."
The Tom Nichols Trust Concert is Tuesday, Nov. 1, at Rosslyn Spectrum Theater, 1611 North Kent St., Arlington. Reception 6:30 p.m., concert at 7 p.m. Tickets are $25, include CD; VIP are $75, include CD, reception, preferred seating. Available at 703-875-1100 or tomnicholsmusic.com.