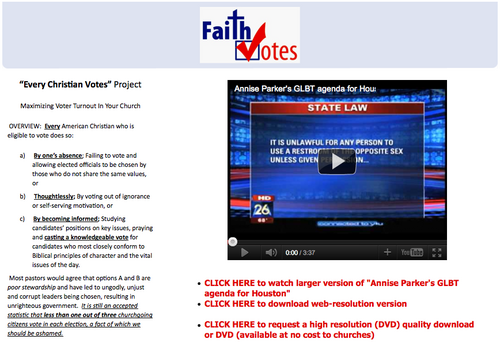 [Image, above: Screen capture of the FaithVotes web site at 1:30 p.m. today. Image, below: Screen capture of the FaithVotes web site at 2:30 p.m. today.]
A video uploaded to YouTube on Oct. 16 by user "djdubyasr" and promoted by the U.S. Pastor Council that takes aim at Houston Mayor Annise Parker caught the attention of the Gay and Lesbian Victory Fund today, which called the video a "vicious" attack on the out lesbian official.
The video, which includes a C-SPAN clip of Parker's acknowledgement of her role in the LGBT community during her inauguration and references actions taken as mayor to protect transgender Houstonians from discrimination, urges viewers to "Show this in your church!" and directs them to FaithVotes.org, a project of the U.S. Pastor Council.
The description of the video on YouTube states:
A realistic look at Houston Mayor Annise Parker's first term and how she has imposed her Gay, Lesbian, Bisexual, Transgendered, etc. agenda on the city. Houston voters will choose on November 8 whether this is their agenda also.
The individual who answered the phone at the U.S. Pastor Council contact number said that the video was "not produced by the Pastor Council." Although he told Metro Weekly that he knew who produced it, he also said the council was not releasing that information "at this point." An attempt to gather further information was unsuccessful, as no one answered the phone at the number for the U.S. Pastor Council and the phone number went to a voice mail message for the Houston Area Pastor Council.

FaithVotes had embedded the video on its website, as shown in a screen capture at the top of the post, with a notice that it will provide a high-quality version of the video "at no cost" to churches. The embedded video was removed from the FaithVotes web site, as seen at right, shortly after Metro Weekly contacted the organization asking about its connections to the producer of the video.
Among the other items promoted on the FaithVotes site is the group's 2011 Church Bulletin Insert, which states, "Every election is critical because we select the core philosophy and values of those making critical public decisions on our behalf. Not voting for strong, godly candidates of conviction NOW guarantees bad laws LATER."
An alert about the video — and fund-raising pitch — from the Victory Fund sent out today said of the ad:
But now, just before Election Day, an anti-gay group has released a last-minute video urging Houstonians to vote against Annise because she's honest about being a lesbian. It doesn't matter that she's been an effective leader in troubled times. They want to make this a referendum on the mayor's sexual orientation.
Watch the video: