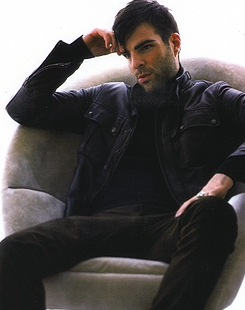 Zachary Quinto — Spock in the new Star Trek and Louis Ironson in this past year's New York City revival of Angels in America — comes out in the pages of New York magazine to Benjamin Wallace, confirming long-discussed speculation. From the article:
Last year, the Times, in profiling him for Angels, noted that "the blogosphere is rife with speculation about his sexuality" but that "he prefers not to feed the rumor mill with either substantiation or dismissal." That has changed. A little while later in our conversation, speaking of the cultural bipolarity that can see gay marriage legalized in New York in the same year that yet another gay teenager, Jamey Rodemeyer, was bullied and killed himself, Quinto says, "And again, as a gay man I look at that and say there's a hopelessness that surrounds it, but as a human being I look at it and say 'Why? Where's this disparity coming from, and why can't we as a culture and society dig deeper to examine that?' We're terrified of facing ourselves."
Then, today Quinto posted a blog entry describing why he took this step that so many other performers have avoided until much later in their careers:
when i found out that jamey rodemeyer killed himself – i felt deeply troubled. but when i found out that jamey rodemeyer had made an it gets better video only months before taking his own life – i felt indescribable despair. i also made an it gets better video last year – in the wake of the senseless and tragic gay teen suicides that were sweeping the nation at the time. but in light of jamey's death – it became clear to me in an instant that living a gay life without publicly acknowledging it – is simply not enough to make any significant contribution to the immense work that lies ahead on the road to complete equality.
Later, he adds:
i believe in the power of intention to change the landscape of our society – and it is my intention to live an authentic life of compassion and integrity and action.