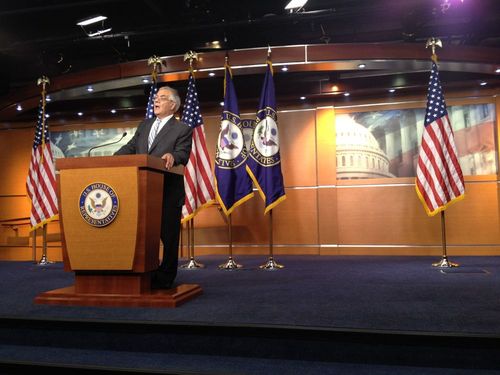 [Photo: Rep. Barney Frank (D-Mass.) talks to reporters on Nov. 29, 2011, one day after announcing his retirement from Congress. (Photo by Chris Geidner.)]
One day after announcing that he would not be seeking re-election to Congress, Rep. Barney Frank (D-Mass.) told reporters today that pro-LGBT legislation can only be passed under Democratic control.
"The only way you can get any law passed that fights discrimination based on sexual orientation and/or gender identity is if you have a Democratic president, House and Senate," Frank told reporters at the Capitol Visitor Center today. "Now, people don't realize how rarely we have had that. We've had a Democratic president, House and Senate for four years out of the 32 I've been in Congress," referring to the two years Democrats achieved that status during President Clinton's first term and the first two years of President Obama's presidency.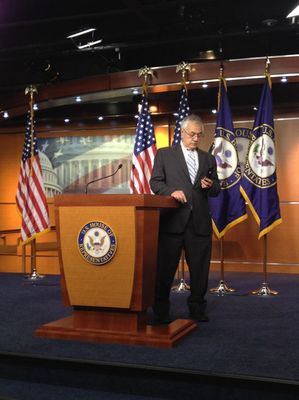 Asked by Metro Weekly about the fact that he would be leaving Congress before the Employment Non-Discrimination Act became law, Frank talked about those conditions and then said of the 111th Congress, in which Democrats did control both chambers with Obama in the White House, saying, "We have several things on the agenda. We got two of the three that were doable. We got the repeal of 'Don't Ask, Don't Tell,' and we got the transgender-inclusive hate crimes bill."
Regarding ENDA, specifically, he said, "There were two problems. First of all, there was a crowded agenda. … And then there was this issue of transgender inclusion. My own state of Massachusetts … showed a way to break thorough that. Now, I might get an argument with some of my allies and friends here about the dimensions of that. The Massachusetts legislature just passed and the governor signed a bill that prohibits discrimination against people based on gender identity — they already had one about sexual orientation — but it's about employment, it does not include public accommodations. It avoids the whole issue of what happens in locker rooms and bathrooms."
He concluded: "The next time we have a Democratic president, House and Senate, I think you could get that type of Massachusetts bill through."
A day earlier, upon hearing news of Frank's retirement, GOProud board chairman Chris Barron suggested a different partisan dynamic, writing on Twitter, "Barney Frank was and is a total embarrassment to average gay people. He won't be missed." He added that Frank "consistently put partisan politics above what was in the best interest of all Americans – esp[ecially] gay Americans," noting Frank's opposition to the "Fair Tax, death tax repeal, [Social] Security personal savings [accounts], & free [market health care] reform."
For their part, Log Cabin Republicans deputy executive director Christian Berle noted, "The fight for gay rights is not just an election day issue, and if Congressman Frank doesn't want to reach across the aisle, Log Cabin will gladly pick up the slack."
LCR executive director R. Clarke Cooper added of Frank's contention that Democrats are needed to advance LGBT equality measures, "Not true. For example, the Ryan White Care Act became a reality under a Republican president and grew under Republican leadership in Congress, while the Employment Non-Discrimination Act went nowhere under a Democrat President and Congress. On the state level, we won marriage equality in New York with a Republican majority state senate. Successful passage of legislation requires bi-partisan support, and our movement is actually hurt when Democrats take our votes for granted."
Asked by Metro Weekly about the importance of out LGBT members of Congress, Frank today noted, "Legislating is the most personal form of governing. … Voting in the abstract on an issue is one thing; telling someone with whom you have had good personal relations that you think she's inferior, that's harder. There also is the knowledge base we bring.
"If you believe that we should be finishing the fight against discrimination, legal discrimination, based on sexual orientation and gender, then it's important to have people who are gay, or transgender, or lesbian in the mix."
Watch:
Thanks to Think Progress's Igor Volsky for pulling the clip.