Cancer may not be the funniest thing in the world. It's probably not even in your Top 10. But when cancer happens to a funny person, humor finds a way.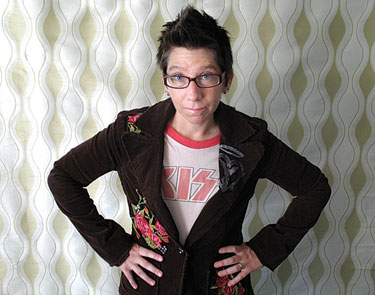 Tania Katan
"I'm using humor as a lens to enter a world that is uncomfortable," explains Tania Katan, who at 40 has already faced down breast cancer – twice – and proactively had her ovaries removed due to genetic inclination for certain cancers. She grants, however, that there may be the rare person who doesn't grasp her message, pointing to a show she did, Saving Tania's Privates, in an intimate venue: "There was this woman in the front who said, 'Cancer's not funny!' and left."
Certainly, she was the exception, as Katan's 2005 memoir, My One-Night Stand With Cancer, has been well received. Next Tuesday, Nov. 15, Katan will share her perspective locally at a D.C. Jewish Community Center event presented by the center's Kurlander Program for Gay & Lesbian Outreach and Engagement and its sport and fitness center, co-sponsored by Capital Breast Care Center, Genetic Alliance and the Mautner Project.
"The reading is not straightforward," Katan says of the evening billed as a reading and workshop. "I have the luxury of being a performer as well as a writer. It's way more theatrical than cracking open a book. It will feel more like a mini performance. I do character voices, the whole thing."
As for the workshop, she dubs it "creative writing lite."
"We're going to explore stories that come from our bodies, literal and metaphoric. It will be a funny, touching, explorative good time. You don't have to have ever written before."
As luck would have it, you don't need to have had cancer before, either.
"The reality is there have been so many amazing human beings who have gotten the story – of a scrappy, Jewish dyke with a bunch of cancer – on so many levels."
Tania Katan's "What's in Your Genes?" event is Tuesday, Nov. 15, from 7 to 9 p.m., at the DCJCC Community Hall, 1529 16th St. NW. Tickets are $18; $12 for DCJCC members, seniors, youth, limited income. Visit dcjcc.org or call 202-777-3253.