Can you handle the tooth?
Seriously — as in an Asian restaurant worker's rotted black tooth that's yanked out in the kitchen and finds its way into soup that's served to a customer who does things with the tooth that I won't even go into because: 1) It would spoil an element of shock that The Golden Dragon depends on; and 2) One of us could very well lose our lunch.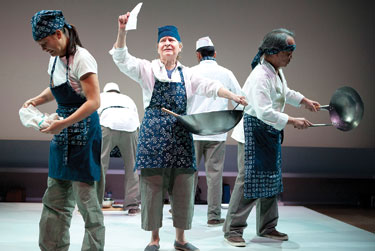 Golden Dragon: KK Moggie, Sarah Marshall and Joseph Anthony Foronda
(Photo by Scott Suchman)
German playwright Roland Schimmelpfennig uses the 80 minutes of Dragon — getting its first U.S. production at Studio Theatre — to reflect on globalization and remind us that there are human beings who are invisible and exploited in today's blurred-boundary world. If this isn't news to you (and it won't be to anyone who's even moderately well-read on current events), that doesn't mean there's nothing to see here. To the contrary, the playwright has concocted an engagingly intricate theatrical exercise with which to convey his points, however broad and obvious they may be.
It's awfully bloody business, though, for the five actors (Amir Darvish, Joseph Anthony Foronda, Sarah Marshall, K.K. Moggie and Chris Myers) who leap across lines of gender, age and ethnicity to portray 16 characters united by connections to an Asian restaurant in an unnamed European metropolis. There's the matter of the worker's tooth, which drives the plot forward on a surprisingly gory and tragic path. And there's a parallel parable interwoven as well, about a starving cricket subjected to sexual humiliation by well-provisioned ants in return for food (did I mention that the playwright is German?), that underscores a violent, even bloodier plot twist in the play's climactic moments.
THE GOLDEN DRAGON



To Dec. 11
Studio Theatre
1501 14th St. NW
$35-$69
202-332-3300
studiotheatre.org
Director Serge Seiden keeps the ensemble impressively nimble and tight, and the play ultimately delivers visceral and emotional impact that, while not everyone's cup of tea, memorably cuts to the chase, bloodshed and all.
THEATER J, MEANWHILE, is mining more intellectually complex territory with a handsome production of Arthur Miller's After the Fall, the Death of a Salesman playwright's 1964 work that presents a protagonist, very much like Miller himself, struggling to understand his failed relationships before undertaking his third marriage.
Spouse No. 2 for high-powered lawyer Quentin (Mitchell Hébert) may be the doozy: Maggie (Gabriela Fernández-Coffey), a starlet in the same kind of self-destructive spiral that claimed Miller's ex-wife Marilyn Monroe just two years before the play's debut. But No. 1 is a force to be reckoned with nonetheless: Louise (Kimberly Schraf), a smart, shrewd woman who outgrows the confines of mid-century domestic femininity but isn't willing to let go of Quentin quietly or easily.
Women aren't Quentin's only problem, though. He's haunted by the specter of the postwar communist witch-hunts that drove one friend, Mickey (Tim Getman), to betrayal, and another, Lou (Stephen Patrick Martin), to suicide. And the weight of the Holocaust bears down on him, too, especially since his latest flame is a German woman, Holga (Jennifer Mendenhall), racked with guilt over her country's history.
AFTER THE FALL




To Nov. 27
Theater J
1529 16th St. NW
$35-$60
800-494-TIXS
theaterj.org
Under the direction of José Carrasquillo, Hébert is supremely cool and confident as he makes his way through Miller's dense thicket of words, ideas and images. And he even has the panache and physique to carry off a slim-fitting suit of the era (one of the smart, spot-on costumes by Ivania Stack). In such tight pants, in fact, Quentin might even be a "fag," Maggie says during one of her increasingly frequent tirades, because that's what they wear to attract one other by showing off their asses. Perceptive girl, this Maggie.
Set designer Tony Cisek adds a distinctive flourish with his onstage interpretation of New York's Idlewild Airport, contributing to a period aesthetic that will resonate nicely with today's Mad Men-Pan Am pop culture crowd.
It's a long mental journey that Quentin must make, however — one that consumes well over two and a half hours — as he awaits Holga's arrival. And his emotional baggage even includes an obsession with his domineering mother (nicely played by Schraf, too, in a creepy bit of double casting). But stick with him through his flashbacks and ponderings on the future. You'll find it's a trip worth taking.