Every city needs an alternative theater scene. Why? The official answer is that alternative theater speaks to and informs the norm, challenges tradition, broadens ideas and is generally good for us. The unofficial answer is that, more often than not, alternative theater is thoroughly liberating and fun: It shakes sensibilities, shocks, titillates, outrages, explores the hinterlands of expression and, at its very best, blows the cobwebs right out of the theatergoing experience. A person might sit through 15 beautifully rendered classics, but only truly, viscerally, be moved by the small troupe of players performing Pinter in tutus. It's a big tent, we need it all.
Of course, with its legion of heads-down government workers, K Street money machines and those wholesome college clones in the baseball caps, cultivating an alternative theater scene in D.C. is no easy task. When something wild and wicked manages to sprout between the bureaucratic cracks, its tenure is fragile; its audience and sponsors fragmented and sometimes hard to reach. Which is why it's all the more important that audiences discover, try and roll with a company like WSC Avant Bard (formerly the Washington Shakespeare Company).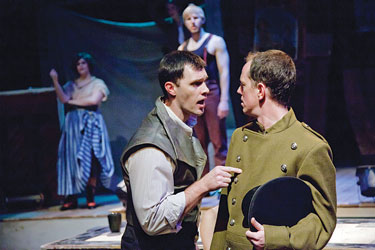 Mistorical Hystery of Henry (I)V: James Finley and Jay Hardee
(Photo by C. Stanley)
Unfortunately, tucked deep within the glass and honeyed wood of the Artisphere at the quiet end of Rosslyn, this will never be a theater one stumbles upon. (It wasn't in its previous home in Crystal City either.)
And yet season after season it delivers thoughtful, intensely creative, occasionally outrageous and always deeply literate theater. It's the kind of theater that keeps your wits sharp, your imagination alive and your spirit utterly entertained. You may hate one piece and weep with affection for another, but that is absolutely the point.
Having said all that, Avant Bard's The Mistorical Hystery of Henry (I)V, an ambitious adaptation combining four of Shakespeare's historical plays, isn't quite all that. Though admirably orchestrated, this is a piece that suggests more than it can deliver, even if what it does deliver is darkly fun, deviously entertaining, innovative, and allows for some very nicely interpreted Shakespeare.
Primarily an amalgam of Henry IV Parts 1 and 2 (but with history from Henry V and Richard II tossed in), director Tom Mallan sets the action in the Boar's Head, a tavern-cum-brothel, somewhere in the early 20th century. As the good-time girls entertain the punters with irreverent but quite involved reenactments of current events (as set out in the four Shakespeare plays), a newcomer appears on the premises — Prince Henry, son of Henry IV. Prince Hal, as he is known, indulges in the bawdy revelries until his father's tumultuous reign and failing health draw him into a role for which he may or may not be prepared. As events unfold, Falstaff — tavern MC, pimp, petty thief and all-around survivor — discovers that his friendship with the heir apparent may have its limits.
With a large cast, it is to the players and director Mallan's credit that this logistically complex, fast-paced production moves with much harmony and an enjoyable rhythm. Although traditionalists may be challenged by Mallan's liberties and format, he nevertheless carves out many spaces in which the language of the original Bard can be savored. It's a stretch but not a travesty.
The rub here is the prominence of the ongoing reenactment. Though initially a novel and visually exciting idea, extended as it is for nearly the entire piece (with breaks for scenes on the tavern floor), the idea simply cannot sustain itself. Even with the high energy of the women and the odd magical interlude, the concept becomes labored. The bottom line is that there are only so many bawdy women in beards one can take and, more importantly, the humor remains too tame for the likes of a company like Avant Bard.
Still, as Doll Tearsheet, the leading lady on the tavern stage and the floor, Kari Ginsburg gives her Doll compelling color, edge and dimension and truly carries the long scenes of the re-enactments as much as is possible. She is always an intriguing, provocative presence and increasingly an actor to watch.
THE MISTORICAL HYSTORY OF HENRY (I)V



To Dec. 4
WSC Avant Bard
1101 Wilson Blvd.
Arlington
$25-$35
703-418-4808
wscavantbard.org
As Falstaff, Christopher Henley captures brilliantly the world-weary cynicism, as well as the wisdom and hope, of this half-entertainer, half-hustler of a man. Rare is the actor who can deliver Shakespeare convincingly in intimate surrounds, and Henley is one of them. As an obviously out Prince Henry, Jay Hardee may challenge a few preconceptions, but he exudes an interesting volatility and nicely reveals the uncertainty and pain of a conflicted young man. Unfortunately miscast, Sara Barker, so often a purveyor of nuance, is wasted reenacting a seriously grating Henry "Hotspur" Percy.
And so, ready to be loved, hated and debated comes another provocative piece from Avant Bard, your locally grown, alternative theater company. If you can't occupy McPherson Square, why not occupy a seat here?