Tower Heist is loud, stuffed with famous people, insistent to the point of shamelessness, and oh-so-very obvious. There's no common denominator it can't lower and no trope it won't demean into a plot device. It's a movie that aims so broadly, it doesn't have a target audience as much as a supreme unified theory of box-office gross attraction.
But you know what? It's still plenty fun.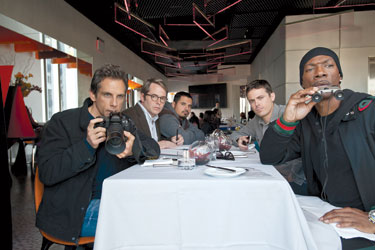 Tower Heist
(Photo by David Lee)
Ben Stiller stars as Josh Kovacs, building manager for a thinly veiled, fictional version of Manhattan's Trump Tower, who decides to rob Arthur Shaw (Alan Alda), a Bernie Madoff-esque Wall Street kingpin. Shaw swindled the building staff out of its pension fund — as a favor, he took on their measly account — so when FBI agent Claire Denham (Tea Leoni) lets slip that he's still hiding a small fortune in his penthouse apartment, Kovacs slips on his best Robin Hood impression to get that money back. Tagging along for the half-witted caper are a hired criminal (Eddie Murphy), Kovacs's brother-in-law (Casey Affleck), a recently evicted tenant (Matthew Broderick), a newly hired elevator operator (Michael Peña), and a Jamaican maid (Gabrielle Sidibe).
If nothing else, Tower Heist benefits from some incredibly uncanny timing. Just as Americans are beginning to come around on the Occupy Wall Street movement, director Brett Ratner drops a pile of glossy revenge porn into their laps — albeit without any of the heft or purpose that fueled the anger it wants to plumb. This is not a movie interested in explaining the intricacies of a Ponzi scheme, or considering the long-lasting implications of multi-billion dollar one. Instead, it falls over itself to remind us that Shaw is a wealthy son of a bitch; he has Picassos plastered on his walls and a Steve McQueen-owned Ferrari parked his dining room. Yet, his guilt is left ambiguous until the third act, when Kovacs and company stumble on a smoking gun while bumbling through their robbery. Given the opportunity to tap into the rage, rather than simply ride its coattails, Tower Heist punts. It doesn't screed or rail — it's just a working shlub, an evil rich guy, and the justice meted out by the former against the latter.
Still, Ratner's at his best here, balancing lowbrow comedy with legitimate action sequences in a way he hasn't since he debuted the Rush Hour trilogy more than a decade ago. It's his blue-collar take on Ocean's Eleven — a movie he was attached to direct before Stephen Soderbergh took the helm — a Towering Inferno that aims for cheap humor instead of thrills. There are plenty of flaws, including enough logical miscues to make your head spin, but Tower Heist is anything but lazy. It's bigger, completely over-the-top, and more Hollywood than anything else out there. Which is to say, it's going to make a ton of money.
TOWER HEIST


Starring Eddie Murphy, Ben Stiller
Rated PG-13
104 Minutes
Once those ticket receipts start rolling in, Ratner will have stellar cast and crew to thank. Dante Spinotti's cinematography injects verves of style into what could've been a tired genre retread, using imaginative shots to ramp up tension without undermining the movie's light tone. As far as big-time productions go, Tower Heist is a gorgeous movie — its sweeping shots from Shaw's penthouse are spectacular, if not more than a little jealousy inspiring. And with few exceptions, the cast fits snugly into his hyper-stylized brand of filmmaking; Eddie Murphy is spitting bullets like he hasn't in years, Ben Stiller plays the straight man with the usual flairs of manic humor, and there's enough comic sensibility among the others to fill in the lulls with easy laughs.
Obviously, Tower Heist is not a smart movie. It's escapism of the highest order, a 104-minute opportunity to see a crook get his comeuppance while the working poor finally hit it big. The sad thing is, when the credits finally roll, that illusion dissolves. White-collar criminals still make clean escapes and get rewarded with seven-figure bonuses. Minimum-wage workers still get fired and struggle to pay their bills. Ratner's made some good fun, but ultimately, it's hard to enjoy outside of itself.
LIKE CRAZY IS not a romantic movie. It's not about a couple falling for each other, either. It's a brutally honest take on the damage caused by love, and what that means for two people young enough to not know it.
The trouble starts when Anna (Felicity Jones) decides to overstay her student visa to be with Jacob (Anton Yelchin) for a few months after both graduate from college. When she tries to come back to the U.S. after visiting her family in England, she's denied by customs and has to go home. What follows is at times heart aching, cringe inducing, and painfully introspective; in short, it's a snapshot of how goddamned much it can hurt to love someone.
Written and directed by Drake Doremus, Like Crazy has wisdom well beyond the years of its characters — while the plot largely revolves around the obstacles in their relationship, Doremus doesn't hesitate to show how they hurt others to be together. Anna and Jacob are not quite blinded by love, but they're sure as hell seduced by the illusions it creates of themselves, of each other, and of their feelings.
LIKE CRAZY





Starring Anton Yelchin, Felicity Jones
Rated PG-13
90 Minutes
Doremus's message, frank as it might be, doesn't land bluntly or suddenly though. It creeps along with the movie's improvised mumblecore style, piling higher and higher until all those nasty questions finally emerge. Is it worth it for them to be together? Do they really understand, or even see, each other? Can love heal the wounds it's responsible for creating?
Like Crazy doesn't answer these questions. But then again, it never had to — asking them is an answer enough.