In a major address delivered Nov. 8 at the National Institutes of Health in Bethesda, Secretary of State Hillary Rodham Clinton said that more than 30 years ago, "American scientists reported the first evidence of a mysterious new disease."
Now, "We know, of course, about its horrific impact. AIDS has killed 30 million people around the world, and 34 million are living with HIV today."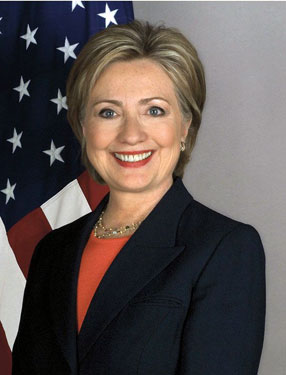 Secretary of State Hillary Rodham Clinton
Her theme was "Creating an AIDS-Free Generation" – both a statement of American principles for aiding in the global fight against HIV/AIDS and a call for global action in the fight.
It also was a chance to enlist the support of Ellen DeGeneres, who Clinton announced was being named the State Department's "Special Envoy for Global AIDS Awareness."
Clinton spoke of the life-saving progress that has been made since the discovery of HIV roughly three decades ago, saying, "We understand how it is spread, how it constantly mutates in the body, how it hides from the immune system. And we have turned this knowledge to our advantage – developing ingenious ways to prevent its transmission and dozens of drugs that keep millions of people alive. Now, AIDS is still an incurable disease, but it no longer has to be a death sentence."
In concrete terms, Clinton talked numbers as well as specific steps that the State Department says will be "pivotal" to reducing the global spread of HIV.
In addition to $50 million previously granted to develop "rigorous studies that test what works," Clinton said, "The United States, through [President's Emergency Plan for AIDS Relief (PEPFAR)], will commit an additional $60 million to rapidly scale up combination prevention in parts of four countries in Sub-Saharan Africa and to rigorously measure the impact."
The State Department issued a fact sheet about Clinton's speech, noting, "Three key scientific interventions have been identified as pivotal: stopping mother-to-child transmission, expanding voluntary male circumcision, and scaling up treatment as prevention." Clinton described those interventions, as well as the gains to be made by using them, at length.
"None of the interventions I've described can create an AIDS-free generation by itself. But used in combination with each other and with other powerful prevention methods, they do present an extraordinary opportunity," she said. "Right now, more people are becoming infected every year than are starting treatment. We can reverse this trend. Mathematical models show that scaling-up combination prevention to realistic levels in high-prevalence countries would drive down the worldwide rate of new infections by at least 40 to 60 percent."
In a statement issued after the speech, DeGeneres said, "I'm honored to have been chosen by Secretary of State Hillary Rodham Clinton as Special Envoy for Global AIDS awareness. The fight against AIDS is something that has always been close to my heart. And I'm happy that I can use my platform to educate people and spread hope. Now, if you'll excuse me, I have to go look up what 'envoy' means."