"And there you have it, a preview of coming attractions," Polly Wyeth (Stockard Channing) says, roughly 30 minutes into Other Desert Cities. The line is a clever, self-referential bit of foreshadowing, as it turns out, and it also understates things.
Judith Light provokes the comment by blustering across the stage, thoroughly stealing the spotlight for a few minutes, and then quickly taking leave. Light does, in fact, offer more coming attractions, but not because she's the larger-than-life diva her grand entrance suggests. Light's character is this emotionally burdened show's comic relief. And yet, Light isn't light, if you will. She's not just there to lighten the mood and be loved. Instead, in Light's skilled hands, the barely recovering alcoholic Silda Grauman becomes a rundown, complex character the audience must take seriously and sympathetically. (Costume designer David Zinn helps the cause by dressing her in dowdy, bargain-bin duds for which you can't help but feel sorry.)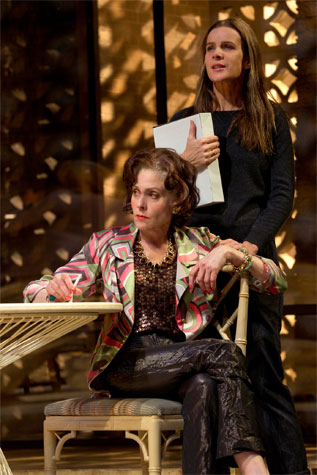 Other Desert Cities: Judith Light and Rachel Griffiths
(Photo by Joan Marcus)
Light's performance is nothing short of stunning.
All told, Jon Robin Baitz's play is stunning, too – a trenchant examination of family life and the serious consequences a lack of communication and support can render upon it. As terrific as she may be, Light is only a supporting character in a superb five-person ensemble, directed with precision by Tony-winning veteran Joe Mantello (Take Me Out). Light is actually new to the cast, having only joined the transfer to Broadway (Lincoln Center first produced it off-Broadway last winter). Also new is Rachel Griffiths, the Australian export famous for her bracing work on Six Feet Under, making a charming Broadway debut as Brooke, the liberal writer and daughter of conservative celebrities Lyman and Polly Wyeth.
Stacy Keach and Channing bring to startling life the Wyeths, a former Hollywood couple and well-connected Republicans. Rounding out the cast is Thomas Sadoski playing the Wyeth's bumbling youngest son Trip, a television producer in L.A.
Brooke sets in motion the play's dramatic arc. On her first Christmas in years back at the family's Palm Springs compound, Brooke reveals that her latest soon-to-be-published book is a tell-all memoir, which discusses in detail the saga of eldest son Henry Wyeth, a liberal revolutionary left for dead. The stoic and sturdy Nancy Reagan-esque Polly, in particular, has assiduously worked to keep this story from seeing daylight. The sordid situation with Henry seems a chief reason the couple retreated to a desert hideaway in the first place. It's something of a private oasis in their scorched earth.
The plot thickens as Other Desert Cities continues, and you might quibble with a few plot twists here and there. Some of the political allusions are ham-handed, with only extremes represented – all or nothing. Essentially, it's the same problem I've had with ABC's sometimes-polemical series Brothers & Sisters, which Baitz created.
OTHER DESERT CITIES




AND ONE HALF
Booth Theater
222 West 45th St.
New York, NY
$56.50 to $126.50
212-239-6200
www.telecharge.com
But Other Desert Cities overcomes all structural shortcomings. The gay playwright Baitz has a wondrous way with words and language, and displays a sharp knack here for developing characters as authentically human as the person sitting next to you.
And then there's the stellar acting ensemble. Thanks to their careful study of each character as well as obvious collective rapport, you come to understand – even sympathize with – all of them, flaws and all.