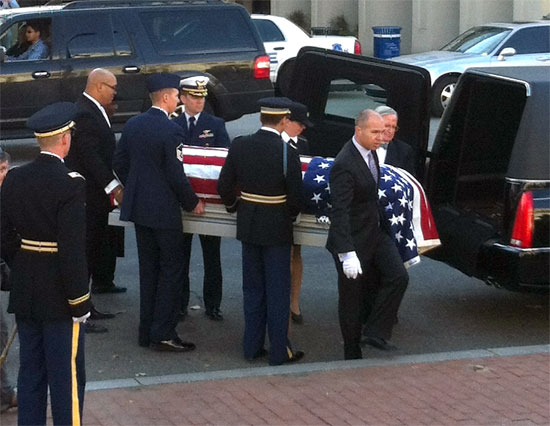 Hundreds of members of the LGBT community and local civic leaders gathered at the historic Carnegie Library in D.C.'s Mount Vernon Square Thursday for a closed-casket viewing in honor of longtime gay rights activist Frank Kameny, who died Oct. 11 at the age of 86.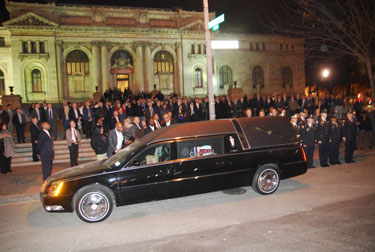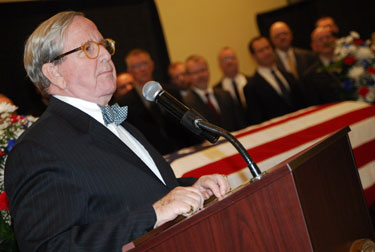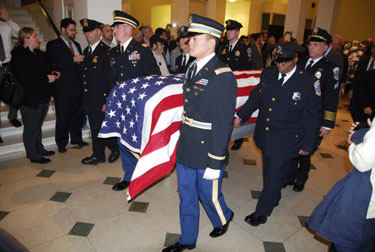 Kameny, a veteran of World War II, was carried into the library's first-floor atrium Nov. 3 by six pallbearers – four military officers in full uniform, including former Army Lt. Dan Choi and former Army Capt. James Pietrangelo II, and gay D.C. Councilmembers Jim Graham (D-Ward 1) and David Catania (I-At Large).
As the casket was transported up the steps of the library, people on either side held enlarged copies of photos of Kameny. Inside, some of Kameny's old protest signs and placards were displayed, including one next to the casket reading, "Homosexuals Ask for the Right to the Pursuit of Happiness."
The five-hour long viewing and unofficial memorial began very lightheartedly, with many of Kameny's longtime acquaintances recalling funny memories of Kameny. As evening approached and the size of the crowd grew, the tone of the event became much more serious, with civic leaders such as Del. Eleanor Holmes Norton (D), Graham and Mayor Vincent C. Gray (D) offering remarks, and the Rock Creek Singers of the Gay Men's Chorus of Washington performing a few songs in Kameny's honor.
Attendees at the viewing remembered Kameny as a larger-than-life figure with a witty sense of humor and a stubborn streak that helped solidify his determination to fight for LGBT rights.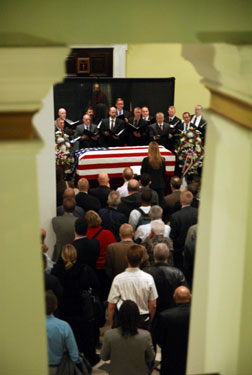 "He always managed to have a rebuttal to people saying gays weren't equal," said Rik Woods. "And he wasn't always nice about it. He was willing to be loud, and shrill – and don't forget that finger!" he said, imitating Kameny's mannerisms.
Deacon Maccubbin, longtime activist and owner of the former Lamdba Rising bookstore put it simply: "I never heard him lose an argument."
Helping Our Brothers and Sisters (HOBS) is collecting funds to cover any costs related to Kameny's interment. Call HOBS at 202-986-6317 or visit helpingourbrothersandsisters.com.