Various government officials, members of Congress, local community leaders and others congregated at the Cannon House Office Building on Capitol Hill to bid a final farewell at the official memorial service for Frank Kameny, the local gay-rights pioneer who died Oct. 11.
At least a hundred mourners, including many federal LGBT employees from Capitol Hill, the White House and various government agencies, filled the Cannon Caucus Room, where speakers shared memories of the man who was frequently referred to during the memorial as "the Rosa Parks of the gay-rights movement."
Speaking at the memorial service were Charles Francis, co-founder of the Kameny Papers Project; Del. Eleanor Holmes Norton (D-D.C.); William Eskridge, a Yale University professor; Reps. Barney Frank (D-Mass.) and Tammy Baldwin (D-Wis.); and John Berry, director of the Office of Personnel Management. All spoke of how Kameny's crusade for equal treatment of LGBT people set the course for the gay rights movement in America, as well as his personal influence on them.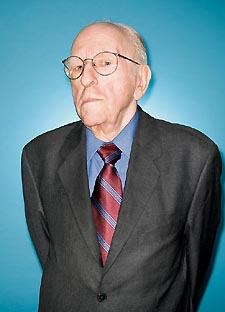 Frank Kameny (Oct. 2006)
Photo by Todd Franson
"It was because of that man I have a career," Berry said, gesturing toward a photo of Kameny at the front of the room and recalling Kameny's longtime fight – beginning with his dismissal from the U.S. Army Map Service in 1957 – to allow openly gay men and women to serve as government employees.
Berry recalled knowing he was gay as a child and wanting to go into public service as an adult, but knowing that his opportunities were limited because of the fear of being "outed" as gay and fired.
"Frank Kameny freed us from that fear," Berry said. "He allowed us to step out of the closet and into the full light of equality."
Baldwin, one of the few openly gay members of Congress and currently the only out lesbian member, eulogized Kameny as someone who was "forthright, strong-willed, tenacious and proud" and told how Kameny's fight for gay rights influenced her own journey of self-discovery when she was in the process of coming out.
"Frank never lived to see our dream of full equality for LGBT Americans," Baldwin said. "It is up to all of us to pick up the trail where he left off and to carve our own path."
Susie Kameny, a distant cousin of Frank Kameny's visiting from San Francisco, attended the memorial service and said she was touched by the tributes to him.
She said she had visited the Library of Congress to view the Kameny Papers Project, a collection of Kameny's various published works, legal briefs and other writings and was planning to visit the Smithsonian's National Museum of American History to see some of Kameny's picket signs that were used in gay rights protests.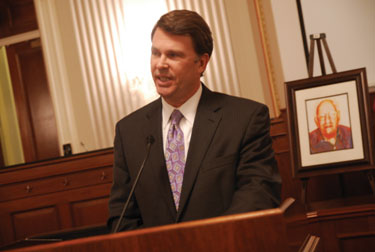 John Berry
"Every time I learn more things about Frank, the more I'm amazed and proud of what he did," she said.
Susie Kameny said she was particularly touched by Berry's eulogy, because he represents the office that is the successor to the Civil Service Commission, which had been responsible for firing Frank Kameny.
"You don't get apologies from the government very often," she said.
Susie Kameny, a teacher by profession, also said that, under a new law passed in California, she will be able to talk about gay rights history and looks forward to sharing stories of Frank Kameny with her students.
"He's a part of that history," she said, smiling.
"I'm just so overwhelmed," Bob Witeck said immediately after the event. Witeck was one of Kameny's longtime associates and the chief organizer of Kameny's two memorial services.
Witeck said each speaker "hit the right note" in eulogizing Kameny and enhanced their speeches by highlighting personal connections they had with Kameny.
Witeck also said it was "richly ironic" that Kameny would be honored in the Caucus Room, where almost 50 years ago the House Un-American Activities Committee held hearings targeting gay people and comparing them to communists in terms of the threat they posed to the United States.
"[Two weeks ago] at the memorial service [at Carnegie Library], it was our city saying goodbye to a local hero," Witeck said. "This was him being recognized as a national hero, with each speaker giving evidence of his effect on their lives. It's a story Americans need to know, not just LGBT people."