Rihanna is a bad, bad girl.
At least that's what she has noted on several occasions since her 2007 album Good Girl Gone Bad, released when she was only 19.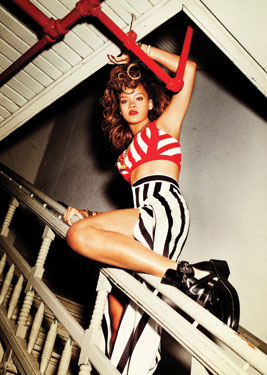 Rihanna
From "Don't Stop The Music" to "S&M," nearly every year Rihanna has released a single naughtier than what came before.
Her brand new album Talk That Talk features several stabs at a contender in the one-up series. There's the edgy, hip-hop-flavored "Cockiness (Love It)," on which Rihanna sings of wanting a "sex slave" and of being a "queen of your body parts." And then, in a digitally distorted voice, she repeatedly says, "I love it when you eat it."
That wild track is followed by the even wilder "Birthday Cake," which lasts barely a minute, but doesn't end until Rihanna says, "I wanna fuck you right now." And yet, she expresses her desire so dispassionately, in a distorted voice, you have to force yourself to notice it. Talk about understatement.
Only one naughty track has obvious hit potential, "Roc Me Out," bedecked in typical glossy electronic fashion by Rihanna's right-hand production duo StarGate. But the track offers a telling lyric. "Take a peek at the girl I hide, I'll let you in on a dirty secret," Rihanna sings. "I just want to be loved."
All naughty fronting aside, love and commitment are the predominant themes of Talk That Talk. The appealing new album is brighter and lighter than Rihanna's last two tough-as-nails sets, Rated R and Loud, both colored by her disastrous, abusive relationship with singer Chris Brown. She seems to have completely exorcised the demons that had haunted her then, and now she's ready to play again, to love again, to reveal her vulnerable side without worry about looking weak. Two songs even offer magnanimous support to an ex, quite possibly Brown. For example, the ballad that closes the album, "Farewell," is about the need to end a relationship because it's the right thing to do for both parties, even if it's not what either wants.
In other words, Rihanna proves here that she's actually a good bad girl. She's certainly far more good than bad this time around, in every way.
The album opens on a giddy note, with the bouncy "You Da One," and then, with two tracks co-produced by Scottish DJ Calvin Harris, moves into the same Euro-trance and techno party vibe that Rihanna so effectively mined with last year's "Only Girl (In The World)." Later, on the sweet "We All Want Love," Rihanna makes a convincing case that she's not alone in pining for amour, whose heady affects she covers on the moody, trance-y "Drunk On Love." Rihanna offers some sexual innuendo on the mildly taunting "Watch n' Learn," but the track is far more notable for its bright-eyed, patty-cake rhythm. It's the type of subtle nod to the Barbados-born singer's tropical roots that gives Rihanna's otherwise relatively commonplace pop music its distinctiveness.
You won't walk away loving, or even humming, every track, of course. Rapper Jay-Z, who gave Rihanna her start in the business when he was head of Def Jam Recordings, does the title track no favors by spouting his typical boasting inanities. And the austerity of Rihanna's naughty tracks doesn't make it easy to warm up to them.
RIHANNA
Talk That Talk
Def Jam
$9.99




Still, there's much aural enjoyment to be had on Talk That Talk, and the set is almost guaranteed to produce another handful of hits for the ever-prolific Rihanna, who has released six albums in seven years. At age 23, she has already become one of the best-selling artists of all time. She's also already tied Whitney Houston for third place among female artists with the most No. 1 singles on the Billboard pop chart, behind Madonna and Mariah Carey.
Certainly, irresistible first single "We Found Love" is likely just the first No. 1 to come from Talk That Talk. "We found love in a hopeless place," Rihanna sings on the dance track.
In reality, love — and hope — seems to abound for the singer.