Holly Twyford almost chokes up recalling the first decade of the AIDS epidemic, when fear and death ran rampant. "I still have a kind of visceral reaction just talking about it," she says.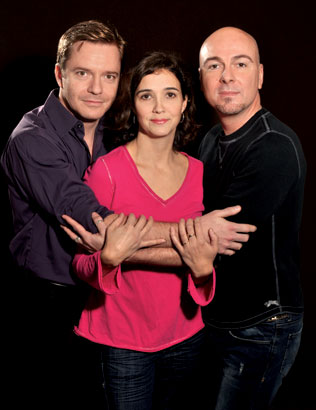 Cast of 'The Normal Heart': Will Gartshore, Rick Hammerly and Holly Twyford
Todd Franson
Fellow actor Rick Hammerly agrees.
"I had sort of forgotten about the terror, the horror and the confusion of when AIDS first started to make an impact on the gay community," says Hammerly. "It was really scary. When somebody was diagnosed with HIV, you knew they were going to die. And there really was no way around that."
The two actors are among a dozen of D.C.'s finest donating their talents and time to a staged reading of Larry Kramer's The Normal Heart. Set for Monday, Nov. 7, at Round House Theatre-Silver Spring, the reading is a benefit for Forum Theatre.
"I think more than any other play about the AIDS epidemic I've read or seen," says fellow cast member Will Gartshore, "The Normal Heart seems viscerally in the moment." It documents the impact of AIDS on gay life in the early 1980s in a more concentrated way than Angels In America, he notes.
"As a gay man," says Hammerly, "you know about The Normal Heart. It's like one of the biggies in the gay theater canon."
Still, it's not a play many have seen produced.
In fact, none of these three gay actors have seen an actual production of the play, first staged in 1985 and most recently revived for a short, Tony-winning run on Broadway earlier this year.
Even though it's not a full-scale production, Forum Theatre's one-night staged reading is certainly a rare treat.
Michael Dove, Forum's artistic director, decided against a more traditional benefit, "just throwing a party and not really doing anything with the evening connected to our mission." Instead, Forum opted "to put up a play that we really believe in." They had to get special permission from Larry Kramer for the one-time engagement, especially since plans are in the works for a national tour of the Broadway revival. "We're very honored that he's letting us do this," says Dove, who notes that Kramer also sent an autographed copy of the script for auctioning.
The play's subject matter, focused on "the struggle with AIDS and the struggle with social activism revolving around AIDS, is still very, very timely and important," says the reading's director, Jeremy Skidmore.
The play also touches on broader issues of sexuality. Now, as then, many gay men see sex as an integral part of their lives – even something akin to a reward after years of struggling with identity. Gartshore says The Normal Heart's anger at the gay community for not curbing risky sexual behavior raises anew "a really, really profound question."
Forum Theatre's The Normal Heart is Monday, Nov. 7, at 7:30 p.m., followed by a reception. Round House Theatre-Silver Spring, 8641 Colesville Road, Silver Spring. Tickets are $75 for general admission or $100 for reserved seats. Call 240-644-1390 or visit forum-theatre.org.
Also read: Metro Weekly's interview with Larry Kramer.