Stephen Pevner is a busy guy. After jetting off to Europe last week, where he attended a film festival in England, took a short trip to Venice, and still found time for an 18-hour marathon dance session at Berghain — a Berlin nightclub he calls "the best in the world" — he found time to talk about The Ides of March, the George Clooney-directed political thrilled he executive produced.
"Short of coming up with the concept, hiring the writer, and having it initially be based on my life," he deadpans, "I didn't do too much to make the movie."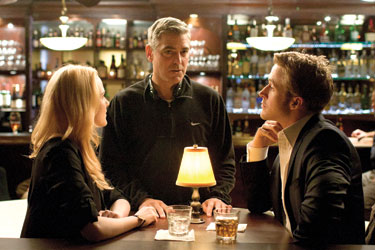 Ides of March
Pevner, who also produces theater, concerts and New York City's infamous Black Party, originally commissioned the film's source material, a play called Farragut North, after experiencing duplicity in his own life.
"I was trying to put together an überevent in New York City with the three biggest DJs around at the time," says Pevner. "But, an associate of mine had called one of these DJs and tried to get him for one of his own events. And by doing so, had ruined the strategy I had put in place to get it together. Despite the fact that I felt I nurtured this person and gave him all of my contacts, I felt a tremendous amount of betrayal."
Inspired by the experience, he hired Beau Willimon, a Columbia University playwright, to come up with a script that plumbed the idea of clashing generations.
"I just realized it's a generational thing, where you work really hard for 20 years and somebody wants to steal what you've created," he says.
And while Clooney's final cut differs from Willimon's stage version, most notably by casting himself as the play's unseen politician, Pevner has learned to appreciate the changes.
"Clooney made this into a passion project," he says. "I realized from doing my own productions that the best gift is giving somebody their independence to make what they want to make."
That independence — specifically, as a gay man working in Hollywood — is what Pevner suggests has allowed him to thrive as a producer. "My gay sensibility is what has given me an outsider's perspective on things — that's my stock and trade," he says. "It's what's given me an edge over my straight counterparts."'
The Ides of March is now playing in area theaters.