Why isn't Jay Brannan more of a true folk/pop star? Certainly the gay community could use more of the sort.
There does seem to be an obvious answer, and it was intermittently on display at the Rock and Roll Hotel on Friday, Nov. 19.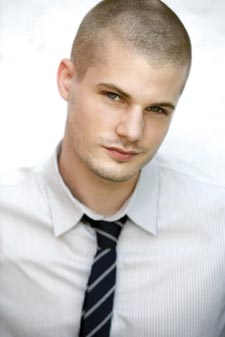 Jay Brannan
But first and foremost, the concert highlighted his qualifications for a starring role. Brannan proved he's got the goods. His sweet, sensitive, Paul Simon-esque tenor sounded as good (at times even better) than it does on record. He also proved that he can play a mean acoustic guitar — it's not just any kind of studio trickery.
And his songs are as catchy and melodious as they are smart and complex. "Housewife," "Half-Boyfriend" and "Can't Have It All" stood out every bit as much live as they did on his brilliant 2008 debut Goddamned. He also previewed a couple strong new songs, including a tune called "Greatest Hits," to be released on a forthcoming album. And he covered Adele's "Someone Like You" and Nicky Minaj's "Superbass," putting his stamp on both.
Brannan's got the looks, too. Even when fully clothed as at this performance — and not naked as in the film Shortbus, which launched his career — the athletically built, 6'1, nearly 30-year-old man, with dirty blond hair and piercing eyes, is stunning, plain and simple.
For sure, Brannan has developed a devoted fan base. At the Rock and Roll Hotel, the sizable crowd was referential throughout his performance, hanging on nearly every utterance. They also cheered loudly and basically demanded an encore. "Is everyone always this nice in D.C.?" Brannan asked. It's apparently not the typical response he gets on tour. In fact, he confessed he was pleasantly surprised by the nice turnout, since he doesn't know "a soul" in D.C.
And why is that? It's not like it was his first time here: in fact, he's stopped in D.C. on several occasions over the past few years.
Ultimately, it seems Brannan isn't as well-connected and popular as he could be because he's rather afraid to let his guard down to connect with people. He's as racked with self-doubt as he expresses on record, and his first instinct seems to be distant, even difficult, toward strangers. Early in the concert, the New York-based artist griped at length about his sorry experiences hailing and calling cabs in D.C. If not for his talent and beauty, it's doubtful any crowd would have stuck through this tirade, as well as the rest of his between-song banter, which was mostly negative, cynical, and only occasionally funny.
Brannan also doesn't observe standard concert protocol. He watched the clock throughout the 75-minute set, as if in a hurry to get through it, and then announced when he had time for just four more songs — and these ended up being mostly new or unfamiliar. And then when the crowd cheered for an encore before he had even left the stage, he asked, "Should I do something new or something you know?"
He went with something new, over the crowd's understandable pleas for something it knows, including shouts of particular tunes.
Instead of leaving fans humming a familiar tune, they left thinking about what might have been, and what could be.