The official memorial service for Frank Kameny, the pioneering gay-rights activist who died Oct. 11 at age 86, will be held on Capitol Hill Tuesday, Nov. 15. The event also marks the 50th Anniversary of the Mattachine Society of Washington, D.C., one of the earliest gay rights organizations in the nation, which Kameny co-founded.
The service is slated to be held at the Cannon House Office Building, Room 345, and will feature speakers, including congressional leaders and Obama administration officials. The official program and speakers will be announced next week, according to a press release from longtime Kameny associate Bob Witeck.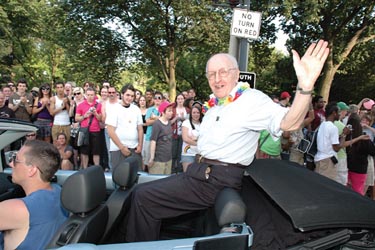 Congressional leaders expected to attend are Del. Eleanor Holmes Norton (D-D.C.) and the four openly gay or lesbian people serving in the House of Representatives: Reps. Barney Frank (D-Mass.), Tammy Baldwin (D-Wis.), Jared Polis (D-Colo.) and David Cicilline (D-R.I.).
The service will be open to the general public beginning at 4:30 p.m. Photography and recordings of the service will be permitted, according to the press release.
Helping Our Brothers and Sisters (HOBS), an organization which Kameny helped found, is encouraging people to make tax-deductible contributions to pay for Kameny's vigil, funeral and burial expenses. Any extra money collected will be dedicated to other members of the LGBT community who are marginalized.