"Sometimes I'll look into the audience and I'll see people crying," says Suzanne Vega. "Or I'll talk to someone after the show and they tell me…that song means something special to them."
The song is "Luka," Vega's biggest hit. The sweet-voiced folk-pop artist's other big hit, "Tom's Diner," means even more to more people — in fact, everyone, even if they don't know it. German scientist Karlheinz Brandenburg used the original a cappella of Vega's song to improve his sound compression technology — a little something called mp3.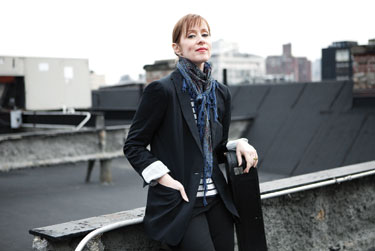 Suzanne Vega
(Photo by Mary Rozzi)
"One journalist named me 'the mother of the mp3' [and] said that any mp3 is the result of my voice and Karlheinz Brandenburg's ears," Vega laughs.
Vega had no idea her late '80s hits would have such a legacy. In fact, she had no idea "Luka" and "Tom's Diner" — especially as remixed by British electronic group DNA — would be hits at all. "We were all trying to get as much Top 40 radio airplay as we could get," she says. "You would craft a song to be a hit and half the time — I mean, none of those other songs caught the imagination. [They're] one of those happy accidents that keep on going."
The song "Luka" was inspired by an actual boy from Vega's old New York neighborhood, who was different from all the rest. (For the record, she doesn't believe the real-life Luka was abused.) Something about the sensitive, sad-but-sweet nature of the song appealed to many. Struggling gay youth in particular must have connected with Luka. "Especially in the beginning of my career I had a big gay following," Vega says.
Earlier this year, Vega performed a dry run in New York of a one-woman play with music she co-wrote with Spring Awakening's Duncan Sheik. Carson McCullers Talks About Love is about the mid-20th century Southern writer. "Both Carson and her husband were bisexual, as far as I can make out," Vega says. "[I wrote] one song 'Ann Marie,' which is a song that Carson sings to the love of her life who was not her husband." Vega is tweaking the show's book and then expects to mount it again late next year in San Francisco, and then eventually tour with it.
Vega will perform a "mini-set" of songs from the play when she stops at the Sixth & I Historic Synagogue this Saturday Nov. 19. The concert is a presentation of the Washington Performing Arts Society. Along with guitarist Gerry Leonard, who has worked with David Bowie and Rufus Wainwright, Vega will offer "stripped-down but not entirely acoustic" versions of songs from her full repertoire. The concert will be similar in style to her current album series Close-Up, in which she's re-recording her many songs and grouping them into themes, from Love Songs to People & Places to States of Being.
SUZANNE VEGA
Nov. 19
8 p.m.
Sixth & I
600 I St. NW
Presented by
WPAS
$35
202-408-3100
wpas.org
Vega doesn't tire of performing songs she's been singing for 25 years or more. "Even as a kid I loved singing the same songs over and over and telling the same stories," she says. "My sister always teases me about he fact that I tell the same story all the time."
Vega went to New York's prestigious LaGuardia High School — the performing arts public school that inspired the show Fame. And now her 17-year-old daughter Ruby From goes there as well. Ruby is a vocal major, so she has a leg up on musician mom, who was a dance student. Vega says she hopes to one day incorporate dance into her performance.
"I move around more onstage [now] than I used to," she says. "But I wouldn't call it dancing."