If you head out to the opening exhibit at Vitruvian Gallery, on display through Nov. 19, you're sure to run into Edmund. Certainly you'll pass by Juan, Aaron, Angel and others. They may not be great conversationalists, but they look great.
And they're just a few of the pieces from the well-known local gay painter, Rob VanderZee, helping to launch Vitruvian as a gallery dedicated to the male form.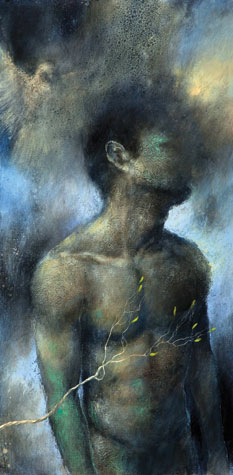 Rob Vander Zee: A New Beginning
"I think it's a great concept," says VanderZee, who has his own gallery in Alexandria.
He adds, however, that he doesn't consider his pieces at Vitruvian as specifically "male figurative." Instead, he says, "When they asked me to create a show around their grand opening, I decided I was going to focus on the paintings' surface. When a viewer looks at the canvas, they're seeing not just a male figure. The male figure is a catalyst for a good painting. It's about painting first."
With the subjectivity of art, a viewer will, of course, see whatever a viewer sees. Male figurative or not, VanderZee says a new gallery in the D.C. metro mix is good, in that he'd like to see greater appreciation for area galleries overall.
"The challenge with D.C. is there's no central area for galleries," he says. "They're spread out all over the place. I went to Richmond for their 'First Friday.' Thousands of people show up for this event every month. D.C. has nothing that comes close to bringing that level of enthusiasm to visual arts. The galleries are really good, but the scene as a whole – it's challenging."
Vitruvian Gallery is at 734 7th St. SE. Open Saturdays and Sundays from Noon to 4 p.m. and by appointment. For more information, email director@vitruviangallery.com or visit vitruviangallery.com.