Alexander Payne had made quite a name for himself on the backs of middle-aged discontents. In Election, it was the stagnant, scheming sort. In Sideways, it was anybody who looks or acts like Paul Giamatti. Payne's latest, an adaptation of the Kaui Hart Hemmings novel The Descendants, suffers a much more garden-variety crisis, a man learning how to raise his children.
Okay, it's not entirely ordinary. To wit: Matt King (George Clooney) lives comfortably in Hawaii. He's headed for a whopper of a payday, thanks to the impending sale of land he inherited as one of the surviving descendants of King Kamehameha. His wife, Elizabeth (Patricia Hastie), is left in a permanent coma after a boating accident. And while cousins pull from all sides about which buyer he'll choose to deliver them millions, Matt discovers that he knew next to nothing about the woman he married. She was having an affair behind his back with another man (Matthew Lillard).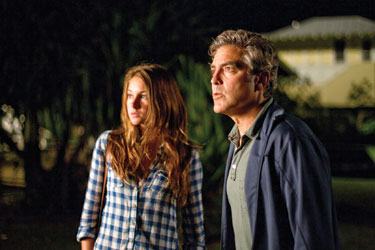 The Descendants
So with all that weighing on dear old Dad, he's left to take care of the kids. Scottie (Amara Miller) is a pudgy and sensitive 10-year-old girl. Alex (Shailene Woodley) is her fierce, wise-beyond-her-years beauty of a teenaged sister. The extent of Matt's parenting, though, seems to be asking about how to do it. He brings Alex home from boarding school to help take care of Scottie, plugging her each step of the way for advice and support. When Alex drags along her friend Sid (Nick Krause), a stoner with a heart of gold, even he chips in two cents when Matt's got no clues left.
Thank all heavens for Sid – the guy's a godsend for Payne's odd brand of dramatic humor. He's a well of bittersweet comedy, whether he's laughing at a senile old woman with Alzheimer's, chastising Matt for using the word "retarded," or even offering a halfhearted chuckle during a heavy, late-night talk. Doubly so for Woodley, who's transcendently great with all her muttering "twats" and "fucks" and pitch-perfect eye rolls.
Still, there's one nagging problem: the affair. We're really supposed to believe that this guy – a financially cautious, loving, deadpan wit of a stud – lost his wife to the likes of Shaggy Rogers? A glad-handing real estate agent who doesn't visit the hospital once, who doesn't even mention the Big Four-Letter Word to her? I say bullshit. Clooney's too charming, too concerned about his family to make her adultery believable. Forget first-world problems, this is an A-list problem.
In the scheme of it all, though, it's not a fatal flaw – watching Clooney mug as a cheery satire of himself never is. Payne's deft edits keep The Descendants tight and smooth, but he's still careful enough to toss in lingering moments here and there, too. (A few seconds underwater with Alex, after she learns that her mother will die soon, are among the best.) Tracy Boyd, Payne's second-unit director, adds in some brilliant shots of Hawaii, establishing a rhythm that's always on island time. Payne, it shouldn't surprise, unpretentiously contrasts the tension between that rhythm – more broadly, the idea of "Haw'aii" – with the difficult issues that the King family must manage.
THE DESCENDANTS




Starring
George Clooney,
Shailene Woodley
Rated R
115 Minutes
Area Theaters
At its heart, The Descendants is about perception, reality, and how one smashes the other into soft little pieces. Gorgeous footage of Hawaiian beaches and countryside fades into urban sprawl and congestion. A moment of Elizabeth's waterskiing bliss gets replaced by a husk of a woman with a hole in her throat. And then there's Matt, standing in a hospital room, staring at his comatose wife, demanding, "Who are you?"
When Matt finally resolves his question, it's easy to see why Payne used the same title as Hemmings did. Of course he would call it The Descendants. It's a movie about what families are stuck with and how, one way or another, they manage to figure it out.