House Alters Michigan Bullying Law
After the Michigan Senate passed an anti-bullying law that contained a religious exemption, Michigan's House of Representatives responded to an outcry from activists by passing a revised bullying bill lacking the Senate's exemptions, according to a report from the Detroit Free Press.
The bill passed the House 82-12. Republican House Speaker Jase Bolger spoke in support of the bill, which supporters say should contribute to a decrease in bullying.
"For many years, people have agreed that bullying is wrong and something needed to be done, but they couldn't find the compassion to compromise, temper their demands and focus on the kids," Bolger said. "Bullying is wrong, it doesn't matter who you are, who you are bullying or why you are doing it."
The bill now goes back to the Senate, where the revised version is expected to pass. –Brian Vetock
J. Edgar Premieres with Look at Hoover's Sexuality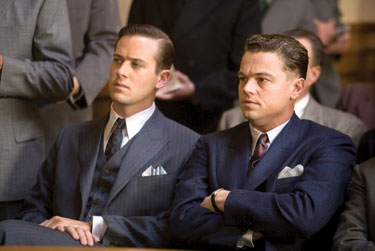 Before J. Edgar hit the box office, many wondered how speculation of former FBI Director J. Edgar Hoover's sexual orientation was going to play out.
With the premiere last week, Box Office Mojo reports that the film was fifth place in the weekend box office with $11.2 million grossed from 1,910 theaters. With that, many moviegoers saw an underlying romance between Hoover and his second-in-command, Clyde Tolson
"At first when I read it I didn't understand the love story," Armie Hammer, who plays Tolson in the film, told The Advocate. "The complexities of their relationship were made more and more clear to me. I started becoming more and more obsessed with it."
With Hammer and Leonardo DiCaprio, who plays Hoover, providing the embodiment of that speculation, screenwriter Dustin Lance Black and director Clint Eastwood have given audiences a two-hour dramatic telling of the background and complexities of that relationship. –Brian Vetock
N.C. NAACP head speaks against marriage amendment
The president of the North Carolina NAACP made an appearance at the 2011 Equality North Carolina Foundation Conference, opposing a proposed constitutional amendment that would ban same-sex marriage in North Carolina.
"We need to stop for a minute and remember the history of amending the U.S. Constitution," Rev. William J. Barber told the crowd, as reported by Pam Spaulding at Pam's House Blend blog. "Our nation had to fight a long and bloody civil war so that our Constitution, on paper at least, began to expand its protections to all persons."
Barber and the NAACP, he said, urge people to reject any type of constitutional amendment that would deprive any person of rights.
The proposed amendment will be up for a vote on the state's 2012 primary election ballot. –Brian Vetock