Things have a way of serendipitously knocking Scott Pasfield off course. Or, perhaps, back on course.
In 1994, it was the avalanche out West that buried him under a foot of snow. He crawled out with a new direction in life and a commitment to turn his passion for photography into a career. He moved to New York and made that dream come true.
Scott Pasfield
The more-recent course correction was far less dangerous. He also seems a little sheepish about admitting it.
"Right before I started this project, I saw that movie, The Secret," he says of the Oprah-touted, sometimes-mocked, self-help brand – a book as well as a movie – dedicated to the power of positive thinking. "I was kind of forced to watch it."
Even as he chuckles through the admission, he won't deny it did the trick.
"I wasn't happy so much with where my career had gone. I wanted to take more pictures again. I think when you take your passion or hobby and turn it into your career, it's difficult to maintain that passion, or it becomes about making money. I realized I had to change some things to find that passion again."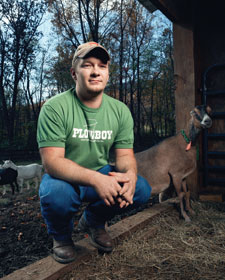 And Gay In America was born. It's an effort that saw Pasfield heading out from the home he keeps in New York with his partner, Nick Barletta, hitting every state in the union – as well as D.C. – to illustrate of cross section of gay men. The resulting coffee-table book of portraits is beautiful, moving and illuminating. There are leathermen, pastors, widowers and engaging subjects of various races, socioeconomic spectrums, ages and outlooks. Some are uplifting, some prompt tears, some are simply going about their business.
"The project…reignited my passion with my craft again," says Pasfield. "I was able to make friends and travel, and make a difference.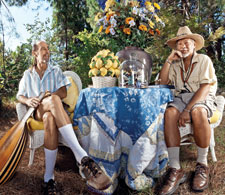 "The Secret works," he continues. "Honestly, it was interesting how being reluctant to see that movie and then actually deciding, 'You know what? I will write down what I want to change in my life,' and it sort of happened. It's interesting."
Perhaps more interesting is the change Pasfield's Gay In America may have on the people who see his book, and to those who shared their stories with him. There is Ken, from Brunswick, Md., for example, whose heartbreaking story would've likely remained within his circle of family and friends only. Nearby, Pasfield also spoke to Brian in D.C.; friends Chris and Jakoury in Chesterfield, Va.; and Shawn in Baltimore. Dan Choi may grace the cover and Terrence McNally, along with husband Tom Kirdahy, may have penned the introduction, but this is not a book of gay celebrity. It is book of gay grass roots.
Granted, Gay In America, is not all things gay to all gay people. The book has no gay transmen, as none responded to Pasfield's online notices in search of subjects. And some have taken issue with the title, as well as Choi's spot on the cover.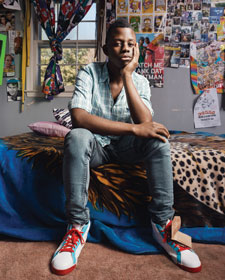 "I had a guy in Seattle walk out of my signing because of [Choi being on the cover]," he says. "And there have been some articles written from a lesbian viewpoint, stating how it's very thoughtless of me to title it that way, how dare I call it Gay In America and not Gay Men in America." Pasfield hopes to do Lesbian In America as his next project.
Despite the detractions, Pasfield is satisfied by the book he has created – and even heartened by the critiques if they spark conversations.
"Already, it's been a dream come true to have this book realized," he says. "I'm so incredibly proud and have high hopes this will help change opinions."
Pasfield and Choi offer a Gay In America signing and discussion, Friday, Nov. 11, from 6 to 8 p.m., at The Center, 1318 U St. NW. $10 at the door benefits The Center. Call 202-682-2245 or visit thedccenter.org.